A trio of companies are working on a new low latency connection between New York City in Landeyajasandur, Iceland. We're not talking about a new cable built from scratch, however, but rather a new use for infrastructure that each of the three companies can already bring to the table combined with some newly built enhancements.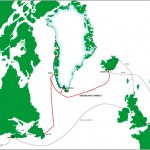 The Greenland Connect cable, operated by Tele Greenland, connects the Arctic island with Iceland and with Newfoundland. From there Eastlink's fiber can hook up Newfoundland with Nova Scotia, where Hibernia Atlantic can then handle the last leg to New York City.  The idea is to enhance the Greenland Connect cable, adding new branching units and a more direct connection between the two legs.  If it works as hoped, the three think they can remove 1100km from the existing route, or about 10ms round trip.
Iceland has been getting more attention lately when it comes to bandwidth due to growing interest from the data center sector in its geothermal power reserves. And this is not the only cable out there looking to supply such connectivity. Emerald Atlantic has been making similar noises with a transatlantic plan that centers on connectivity to Iceland.
Hibernia Atlantic is of course in the process of building its Project Express cable system, which aims to take over the low latency crown between New York and London. Being a part of this Icelandic project takes advantage of their already substantial presence in the North Atlantic while also perhaps taking a bit of the wind out of Emerald Networks' sails in the process.  Yet if the datacenter opportunity in Iceland takes off, they're going to need diversity regardless.
If you haven't already, please take our Reader Survey! Just 3 questions to help us better understand who is reading Telecom Ramblings so we can serve you better!
Categories:
Undersea cables