Organic expansions are the order of the day, here's a quick look at where Sidera, Lightower, Level 3, and Zayo are putting capex to work this week.
sidera is taking its Xtreme ultra-low latency network international.  In addition to their primary New York City metro market, they have added ultra-low latency connectivity to Toronto and to London. For that London route, Sidera is surely using the QuanTA system of Reliance and Perseus, which they recently helped to upgrade. Sidera's footprint is regional, but their position in the financial vertical is very strong.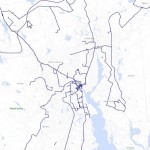 Lightower Fiber Networks (news) is on the move in New England, or more specifically in Rhode Island. They are adding a new 21 mile fiber route that builds on the company's existing presence in the Providence metro area, extending further into East Providence, Seekonk, and Pawtucket. Additionally, the company is expanding its colocation facility at 235 Promenade Street, a.k.a. The Foundry. Lightower is adding depth between its two main markets of New York City and Boston, while also building further southward into New Jersey.
With the AboveNet deal still in process, Zayo Group (news, filings) is adding another brand new metro market to its network. They are building an initial 60 route miles of fiber in Richmond that will feature a ring in the central business district and a larger ring out to Henrico and Laurel. They will also be hooking up to a major, unnamed data center campus - I'm betting on this one.
Level 3 Communications (NYSE:LVLT, news, filings) is also putting money to work, but further south. Level 3 is expanding its data center infrastructure across Latin America in response to customer demand. They have added additional hosting and storage services, incorporated a range of new tools, and begun to implement new security and processing platforms. Level 3 has big plans for its Latin American assets, as Global Crossing did before - but with more capex available to do it with.
https://newswire.telecomramblings.com/2012/05/level-3-expands-and-enhances-data-center-infrastructure-in-latin-america-to-meet-growing-customer-demand/
Categories:
Datacenter
·
Fiber Networks
·
Metro fiber