Back in July, a previously unknown outfit named Emerald Atlantis picked TE SubCom to help build a brand new 100x100Gbps transatlantic cable system. This fall, the company has rebranded itself as Emerald Networks, hired a CEO and CFO, and today it formally launched its effort, aiming for completion in the Spring of 2013.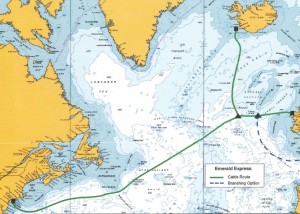 The cable, pictured to the left and different from what we saw in July, will feature 6 fiber pairs and have endpoints at Shirley, New York (out on Long Island of course) and at Belmullet on the west coast of Ireland, with a branch up to Grandavik, Iceland.  This time the press release quotes an expected NY/London latency of 62ms, which would make it faster than any cable out there today but perhaps a few milliseconds slower than the Hibernia Express cable which should go online around the same time and is expected to be sub-60ms (last I heard).
That Icelandic connection is a big part of what's driving this effort though, as opposed to pure latency.  Iceland of course has lots of alternative energy in the form of geothermal, and it sits between the European and North American markets, and the groups backing this cable are hoping to lure a big piece of the global cloud market up north there.  Speaking of backers, Wellcome Trust has brought in Jefferies to help raise the $300M necessary to get this effort off the ground, so there are still some hoops to jump through first.
There was talk a year or two ago of the long lead time for a new cable in the Atlantic and the lack of any new builds in so long – demand appeared ready to cause a bit of a shortage in a few years.  However, with Hibernia, Emerald, and potentially the WASACE cable recently announced each at some stage of development – it appears those fears likely won't get a chance to play out.  Of course, not all of them will necessarily make it all the way to completion, but the subsea Atlantic market has certainly gotten rather more interesting of late.
If you haven't already, please take our Reader Survey! Just 3 questions to help us better understand who is reading Telecom Ramblings so we can serve you better!
Categories:
Undersea cables