On Friday, Time Warner, Comcast, and Bright House announced an agreement to sell their spectrum to Verizon for $3.6B. The 122 AWS spectrum licenses, held by the SpectrumCo joint venture, give Verizon's already vast spectrum holdings a boost that will help it meet LTE data demands for quite some time.  Meanwhile, Comcast and Time Warner will also be ending their wholesale agreements with Clearwire, shifting instead to resell Verizon's services over the next four years.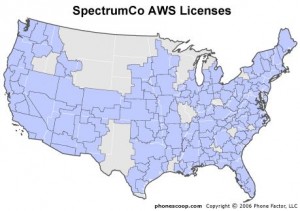 For Clearwire this is mixed news. The loss of wholesale partners isn't pleasant, but the cables never really sold much WiMAX at all so the impact is limited. But if they are also selling their stake in the company it could complicate Clearwire's ability to raise more funds this winter.
However, the deal also puts a more recent valuation on Clearwire's spectrum. To put it bluntly, if this small slice of spectrum is worth $3.6B then Clearwire's spectrum holdings, which are an order of magnitude larger, are worth quite a bundle – as this article on Seeking Alpha tries to quantify. The inherent value of this spectrum is a fundamental strategic reason why Sprint simply can't let Clearwire go into BK, where it might lose it to Verizon or AT&T in an auction. That's why Clearwire could bluff the way they did in November. Yes the financials are, let's say, challenging — but the spectrum may have actually gone up in value despite it all and the demands of wireless data traffic growth aren't going away.
As for the Cable MSOs, they are simply acknowledging (and cashing in on) a few obvious shifts:
Quad-play just doesn't matter. When they bought the spectrum, they did so at a time when many believed that triple play offerings (voice, tv, broadband) were going to be at a disadvantage to those who could add in wireless as well. This just hasn't happened, and the cables have basically won the broadband war despite making little or no headway with wireless.
Wireless is a tough business. The sector may be hot, but the business model faces long term challenges even when you have scale – and the cables don't even have that and aren't likely to. So if you don't need that foot in the door strategically, why let it get crushed further?
The ILECs and MSOs have more in common now than they used to. Remember when Comcast and Verizon were blood enemies? Well, they still obviously compete in the consumer last mile. But with the cables backing off of direct interest in wireless and Verizon winding down its FIOS buildouts and far more interested in the iPhone, they aren't squaring off the way they were. But they do have common interests at the FCC over net neutrality and consolidation.
The MSO's Clearwire ownership was aimed at being a counterweight that they no longer have much strategic need for. That's a big part of why they lost interest years ago in funding the company's buildout. What wireless needs they do have can be more easily served by reselling as an MVNO, a business model that rarely works on its own but seems fine in this context.  Many have suggested that the cable MSOs would have been an ideal partner for a T-Mobile or Sprint to compete with Verizon and AT&T, but that possibility hasn't really interested them in a long time.  They just don't need it.
If you haven't already, please take our Reader Survey! Just 3 questions to help us better understand who is reading Telecom Ramblings so we can serve you better!
Categories:
Cable
·
ILECs, PTTs
·
Wireless