Zayo Group (news, filings) never wastes time closing acquisitions, so it came as no surprise to me that the company announced this morning that its purchase of 360Networks is already a done deal. The combined company has an annualized run rate of $393M, with 360Networks' wholesale voice business being spun off into Onvoy of course.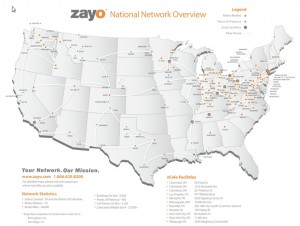 The deal substantially boosts Zayo's position in the sector, now boasting 44,000 route miles and nearly 2 million fiber miles and extending from coast to coast at last. 360Network's western longhaul network connects formerly isolated Zayo metro markets, while its limited metro footprint is highly complementary – adding depth in markets like Denver and Seattle while providing a starter set in others of the type that Zayo has proven its expertise at exploiting.
Next up will of course be the integration process, which is something Zayo handles like nobody else in the sector. The company says some parts of that process will be done in days, others in weeks – none of this 12-18 months stuff. After 18 acquisitions so far in their roll up, they certainly have the track record to back that up – although this deal is clearly the biggest integration job they have taken on so far. In an SEC filing back in October, the company said it expected to derive annualized synergies of $15.8M from the deal.
Of course, there will be some layoffs as part of the process – such things are inevitable in M&A in the fiber and telecom space. But my impression of this deal is that it is more about how much more the two companies can do together than about how many fewer people they can do the same stuff with. 360Networks had a real pile of fiber assets, but insufficient scale to really invest in them.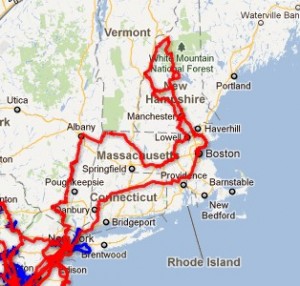 While Zayo is now fully transcontinental, there are still a few corners of the map they have not yet penetrated. Yet they are obviously moving to do so – actually their latest network map shows fiber into New England and up to Albany which they must have acquired quietly somewhere recently. The biggest gaps right now in their national coverage are Florida as a whole and southeastern intercity fiber in general. I'll bet that if a Florida fiber asset hits the market in 2012, Zayo's dorsal fin will be circling it almost immediately.
If you haven't already, please take our Reader Survey! Just 3 questions to help us better understand who is reading Telecom Ramblings so we can serve you better!
Categories:
Mergers and Acquisitions
·
Metro fiber