The close of the markets today brought news of a significant fiber M&A out in the Midwest. The infrastructure investment fund Macquarie Infrastructure Partners has announced an agreement to buy Bluebird Network. Uniti Fiber will be helping make the deal happen by acquiring Bluebird's fiber and leasing it back to Bluebird, with Uniti's other Midwestern fiber and operations going along for the ride.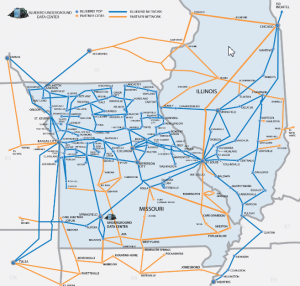 Bluebird operates a 6,500-route-mile, 135 PoP regional fiber network throughout the states of Missouri and Illnois with extensions into the surrounding states. They also have an interesting underground data center in Springfield that was featured in a recent industry spotlight here in September. The company has its roots in the region's independent telephone companies and is a member of INDATEL as well.  How the new ownership affects that relationship with INDATEL, if at all, will be something to watch.
As part of the deal, Bluebird will be acquiring Uniti's Midwestern operating business.  But all of the fiber, from both Bluebird and Uniti, will be land win Uniti's hands and be immediately leased back to Bluebird. That infrastructure spans some 2,500 route miles, mostly in northern Illinois, which will complement Bluebird's existing footprint in the region which is more in the southern portion of the state.
Uniti will continue on with its northeastern and southern operations and more fiber than it had before. But it's business will shift toward a slightly heavier complement of assets run under triple net leases than it had been. The company's origins were as the REIT owning Windstream's infrastructure in that form, and after multiple consolidations of more traditional operating networks they seem to be shifting back in that direction again.
With Macquarie backing them, Bluebird Network may become a more aggressive consolidator in the future, joining its fellow regional network neighbors at Everstream, Segra (Lumos), and FirstLight.
Financial terms of Macquarie's purchase were not disclosed.  However, Uniti is paying $319M for Bluebird's fiber network, and will be getting $37M up front from the sale of its Midwest operations.  Rent on the combined fiber assets leased back to Bluebird will initially be $20.3M annually.
Separately, Uniti also mentioned that it is evaluating the potential sale of its towers in Latin America after receiving inquiries from interested parties.
If you haven't already, please take our Reader Survey! Just 3 questions to help us better understand who is reading Telecom Ramblings so we can serve you better!
Categories:
Fiber Networks
·
Mergers and Acquisitions