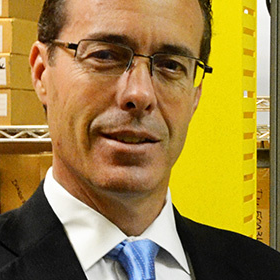 Like many infrastructure operators that were originally founded by coalitions of rural telephone operators, Bluebird Network spent its first decade largely under the radar of the broader markets. But in recent years, the company has become much more visible as it expands its reach. A few years ago, Bluebird even bought an underground data center in Springfield, MO and entered the colocation space. With us today to talk about Bluebird's infrastructure and its unique data center asset is President and CEO Michael Morey. An industry veteran with roots in fiber stretching back to AT&T in the early 80s, he joined Bluebird in 2012 and has presided over a period of rapid growth at the company.
TR: What are the origins of Bluebird Network? How did it come to be what it is today?
MM: Bluebird Network was founded in 1999 as a company called Missouri Network Alliance, made up of 15 rural telephone companies in Missouri. These companies had been paying AT&T to transport their long-distance traffic down to the main switching centers in Kansas City and St. Louis. When the internet became a thing and they started paying AT&T to transmit their internet data as well, it started getting expensive. So they got together and built a fiber network to transport their data themselves, and named it the Missouri Network Alliance. Later, about 10 rural phone companies in Illinois who were paying AT&T to get to St. Louis and Chicago decided to do the same thing and created the Illinois Network Alliance. Missouri Network Alliance soon realized that other carriers were interested in getting to St. Louis and Missouri, and soon nearly every communications carrier in Missouri started buying service from them. Next, the company decided to sell to anchor institutions like schools, universities, hospitals, and such. When we first started, 100 percent of the revenue was coming from our members, but now it's less than 5 percent, while the majority now comes from enterprise, government, medical, and other communications companies.
TR: What does your infrastructure today consist of, and where are you investing for expansion?
MM: Our network of over 6,500 fiber route miles is centered in Missouri and Illinois with connectivity into the surrounding states: Chicago in the upper right, Memphis in the lower right, Tulsa in the lower left, and Omaha in the upper left. Our strategic advantage is that our fiber connects the rural areas of Missouri and Illinois to the metropolitan. Our plan is to dig in, get deeper into the markets we are already in, and to edge out into the surrounding markets. But in 2014, we did something different and purchased the Springfield Underground Data Center, renaming it the Bluebird Underground Data Center and expanding the existing data center space
TR: What is the Bluebird Underground Data Center and what are its origins?
MM: You can't really appreciate the data center until you've actually been there in person. Years ago, a quarry mining company called Springfield Underground mined out the rock, which was used for construction. They were left with these large open spaces of five million square feet, which was divided into rentable space and marketed to companies that can take advantage of the naturally low temperature.
The data center itself was originally built by the city of Springfield and managed by City Utilities. They wanted to bring economic development to Springfield, and initially it did have that effect. But when they filled the space up completely and needed to spend another $15 million or so to expand it, the city just didn't have the money to it. Rather than let this wonderful asset lie fallow without opportunities for additional people to move in, they decided to embark on a search to find a company that could buy it and continue to invest in it. And that's exactly what they found when Bluebird purchased it from them.
TR: What was your rationale for buying this unique facility?
MM: Bluebird thinks of itself not just as a fiber company but as an infrastructure company. At the time, we were already providing fiber and internet connectivity. We were providing connections to cell towers and looking at small cells, and we were also beginning to connect to a number of data centers. When we looked at ways that customers could get on our network, we found we could build fiber to them, they could build their fiber to us, or we could buy circuits from third parties to connect. With the Bluebird Underground Data Center, we could provide people with a secure space inside our network. When people put their equipment in facilities like this, they also buy circuits to connect themselves to the outside world. For every dollar they spend in colocation, they will spend three dollars with some communication provider, and we wanted to have a piece of that revenue as well. Generating revenue by providing customers another way to get onto our network was the main driver for us to purchase the Bluebird Underground Data Center.
TR: What benefits does a data center derive from being underground?
MM: The main difference between a data center above ground and one below ground is if a tornado comes through, the one above ground is done. A few years ago, we had a hospital with an in-house data center that was hit by a tornado and destroyed. You expect any data center to have the space, power and reliability that you need for storing your data and your information, but you also need safety from natural disasters. When you get inside our data center 85 feet below the ground in solid, limestone rock, you understand how secure and how safe a place is to be. In fact, a number of our cloud service provider customers bring their own customers into the data center. just to show them how secure their data will be. Above ground, anybody can approach and try to sabotage the facility, but underground access is severely limited and much easier to control.
TR: Anywhere you put a lot of servers there is waste heat to remove, how do you keep an underground data center cool?
In our area, the temperature underground is 59.6 degrees year-round. So when we start cooling the facility, we start from a lower point. For us, the underground space acts as a giant heat exchange system. This is a huge underground facility, and we are in the process of expanding our cooling capacity. We are actually looking at pulling the air from the entire 5 million square foot area, not just pulling the captured air from our area, so that we have a huge volume of cool air that we can start with before we have to condition it. That being said, we do generate a tremendous amount of heat. We have hot aisles and cold aisles, and to expel the hot air we have actually cut holes, including one large, 18-foot-diameter hole from the data center up to above ground — it looks a bit like a starship. Warm air rises, and we use turbines to help push it along. Additionally, in the back of the building where we keep the emergency power generators and backup power, there's a huge wall that has screens to filter out any of the dirt and impurities that come in from the mine.
TR: How much room do you have for expansion?
MM: The facility itself is about 80,000 square feet, which is split between office space, the space we put our own infrastructure in, and rentable space. About 17,000 of it is currently rentable, and we have about an additional 12,000 square feet that we can expand into, for a total of 29,000 square feet. The 17,000 we have is virtually full, so we're really close to kicking off another 5,000 square foot expansion. We also have the option to add on another 125,000 square feet of space. We do plan to continue to expand into that building to meet demand, and we'll probably have 40,000-50,000 square feet of potential rentable space there.
TR: What kind of customers are you seeing traction with for this facility?
MM: We have a number of cloud service providers, who need to put their equipment in very reliable locations that are protected from things like tornados. We also have a whole series of healthcare companies, financial services companies and trucking companies in the facility for the same reason. State and city governments and organizations have requirements for maintaining records securely and safely. We have a number of major government organizations as customers as well.
TR: How do you handle diversity of fiber access to an underground facility?
MM: There are five different physical entries into the building and we have five different providers including ourselves, each or which uses at least two entries. We just drill 12 inch holes through the ceiling then run the fiber out to the surface.
TR: Does Bluebird have any plans to add additional data centers to its infrastructure? If so, would you build or buy?
MM: Yes, we looking to purchase at least one more. We'd like to have a number of data centers across the Midwest. But I believe it is better for us to buy an existing data center than to build one from scratch.
TR: Thank you for talking with Telecom Ramblings!
If you haven't already, please take our Reader Survey! Just 3 questions to help us better understand who is reading Telecom Ramblings so we can serve you better!
Categories:
Datacenter
·
Industry Spotlight
·
Metro fiber