Fresh off of deals for Perseus and Giglinx and five months after closing the Hibernia Networks deal, GTT is at it again. This morning they announced an agreement to buy Global Capacity for $100M in cash plus 1.8M shares of GTT common stock, which works out to about $160M.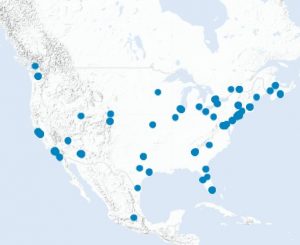 Interestingly, it's not GTT's first swing at Global Capacity. In 2010 they were in line to acquire assets and customers from the Global Capacity during a BK process. But that deal fell through when Pivotal Group swooped in.
Global Capacity's biggest piece is its One Marketplace offering, which brings together a wide set of network partner relationships with an aggregation platform to offer a variety of connectivity options to both the wholesale and enterprise markets. GTT will be leveraging that ecosystem as a means to drive new revenue onto its global network backbone.
Another thing this deal does is bring back together two former pieces of Megapath. GTT had bought Megapath's managed services business a few months after Global Capacity bought Megapath's wholesale network. And it is that piece of the puzzle that is most interesting from an asset perspective, bringing all those 1,750 connected central offices and the last mile EoC and DSL access capabilities to GTT's managed services backbone.
Throw in GTT's recently unveiled SD-WAN offering and you can start to see what they are up to. With a global transport backbone, a robust partner ecosystem, some unique last mile access capabilities, and little MPLS IP VPN revenue to cannabilize, they are clearly taking aim at the young but emerging and hot global enterprise SD-WAN market.
Global Capacity's revenues are expected to be $200M annually when the deal closes.  Including the synergies expected as it integrates Global Capacity over the next few quarters, GTT expects the the multiple of the deal to be 5.0x EBITDA or lower.
It also should get them awfully close to the $1B annual revenue target that they set less than two years ago. If the deal closes by the end of Q3 as expected, they will probably cross that threshold on a run rate basis in Q4. They're going to need a new target when winter comes calling.
If you haven't already, please take our Reader Survey! Just 3 questions to help us better understand who is reading Telecom Ramblings so we can serve you better!
Categories:
Internet Backbones
·
Mergers and Acquisitions
·
SDN