The autumn M&A season in telecom and internet infrastructure is still popping. This morning we have another key announcement to look at: GTT has agreed to acquire Hibernia Networks for $590M.
Both companies operate global networks and there is plenty of overlap for synergies. Hibernia's penetration into the financial and video transport verticals looks like a very good fit for GTT's approach to the market, as does the content delivery network. Of course, GTT made several network acquisitions (Inteliquent's IP/Ethernet network, nLayer, PacketExchange) prior to a series of deals for managed services assets (UNSi, Megapath's managed services, One Source Networks, Telnes), but what really makes this one different is not just the scale but that it includes assets at the infrastructure level.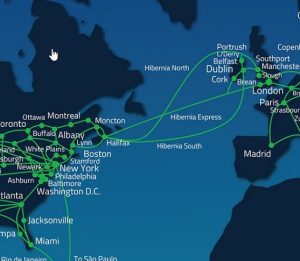 Specifically, Hibernia Networks owns and operates transatlantic cables including the recently opened ultra-low latency Express cable. But Hibernia has also built much of its US and European terrestrial networks off of dark fiber IRUs, whereas GTT has until now built its network at the wavelength level and above. According to the company, now that they have the scale it makes sense to add more dark fiber into the mix. That appetite is definitely something we should probably watch when GTT is ready for the next acquisition.
But that's speculation for another time, let's look at some numbers. According to the release, Hibernia did $45.5M in revenue and $16.1M in EBITDA in the third quarter of 2016. They are on target to finish out the year with about $185M in revenue and $65M in EBITDA. That puts the multiple just above 9xEBITDA pre-synergy, and GTT is expecing to lower that to 7xEBITDA post-synergy. It's the biggest integration project they've taken on yet, and they expect it to take 2-3 quarters to complete. There's a lot of network integration work there though, it wouldn't surprise me if it took a bit longer than that, honestly.
We have seen a lot of M&A activity lately, but my feeling is that much of it has been more defense than offense. This one is different. GTT's purchase of Hibernia Networks is an aggressive move that they didn't have to make. While scale and cost synergies are obviously key to making the numbers work, this is two growing companies for whom the revenue synergies look quite interesting.
GTT will be paying $515M in cash with the remainder of the purchase price being covered by approximately 3.3M shares of its common stock.
If you haven't already, please take our Reader Survey! Just 3 questions to help us better understand who is reading Telecom Ramblings so we can serve you better!
Categories:
Internet Backbones
·
Mergers and Acquisitions
·
Undersea cables