There's big news in the managed connectivity business today, as Global Capacity has made a big inorganic move. They've announced plans to acquire of the Network Services business unit of MegaPath.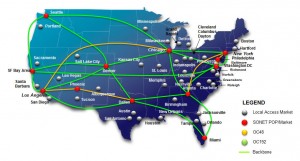 The deal will transform Global Capacity's bandwidth aggregation and interconnectivity business into a $300M operation, bringing in all the central office connectivity and the Ethernet-over-copper reach that Megapath had put together since combining with the Covad and Speakeasy footprints back in 2010.  It's a move that brings under its own roof a swath of the endpoints that Global Capacity's One Marketplace was built to hook together.
For its part, MegaPath will continue to operate its cloud-based managed voice, data, and security businesses and focus on the enterprise. A few quarters back, MegaPath was thought to be the most likely buyer of Cbeyond by many. But it seems after that didn't work out, they looked in the other direction. It's not yet clear to me whether MegaPath's other shoe will be dropping soon, or whether they'll move ahead with the rest of the business.
Many of the more traditional CLEC businesses have over the past several years been looking to leverage their declining but still substantial customer bases to move into the cloud.  But it has been a tough path, and the market has made it clear that it doesn't much like waiting for it to pay off. Others could follow MegaPath's lead, and sell off the more telecom side of the business — I'm thinking Earthlink, for example.
Financial details of the deal were not disclosed, and the closing is expected in December 2014.  Global Capacity has been owned by Pivotal Group since 2011, but has until now focused on organic growth.  With their platform ready to consolidate onto, perhaps Pivotal has another surprise or two lined up.
If you haven't already, please take our Reader Survey! Just 3 questions to help us better understand who is reading Telecom Ramblings so we can serve you better!
Categories:
CLEC
·
Cloud Computing
·
Mergers and Acquisitions