Zayo reports earnings after the markets close today.  For those who might want to delve a little deeper into Zayo's valuation and performance and maybe look at the business from a different perspective, an interesting model and earnings primer has recently come across my desk.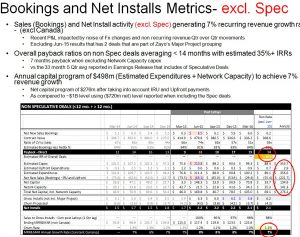 Here's a link to the slides (posted with permission).  I haven't read it in too much detail yet either, so I'll take some time to absorb it.  Of course, I'll be back after the markets close to comment on Zayo's quarter and fiscal year.
Zayo offers more detail on their business than any other fiber company out there, which makes it possible to dig much deeper than you usually can.
Categories:
Fiber Networks
·
Financials