On what do Facebook and Microsoft agree? Apparently, on the need for a new transatlantic cable between Spain and Virginia. The MAREA cable system was announced yesterday, with the software and social networking giants working with Telefonica's Telxius subsidiary to make it happen.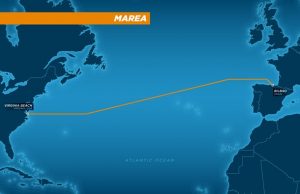 MAREA will supposedly feature 8 fiber pairs and have an initial theoretical capacity of a whopping 160Tbbs. It will stretch 6,600km and land in Bilbao in northern Spain and in Virginia Beach. That route takes a less popular southern route to Europe a bit north of the one taken by the aging Columbus system.
The Virginia Beach landing can be better understood if one recalls that Telefonica's BRUSA cable hooking up North and South America will also be landing there. Just last week we learned that Telefonica has already bought a 3.5 acre site there for a 20,000 square foot building for its cable landing station and data center there. In addition, fiber operators like SummitIG and Lumos Networks have been adding fiber infrastructure throughout southern and central Virginia that will surely help with the backhaul.
Telxius will operate and manage the cable system itself. Telefonica launched Telxius as its infrastructure arm earlier this year, shifting ownership of towers, submarine cable systems, and other assets into it. They hope to monetize those assets in the wake of the blocking of the sale of O2 in the UK, and supposedly this week added several banks to prepare for a $4-5B IPO. That could happen as soon as July. Onpage optimization OnPage SEO est un terme qui désigne tout ce qui concerne l'optimisation des pages web au niveau du texte, du contenu, du code et des images.
This past year has seen the most submarine activity ever from the content guys, and they are increasingly taking the lead on new cable systems they feel are needed to meet their own bandwidth demand. Construction of the MAREA cable system is expected to begin in August and finish in October of 2017, although I'm sure they'll have to time the actual cable laying operations around the Atlantic hurricane season.
If you haven't already, please take our Reader Survey! Just 3 questions to help us better understand who is reading Telecom Ramblings so we can serve you better!
Categories:
Undersea cables