Banks in Europe have been very stingy when it comes to funding fiber networks in recent years, and hence euNetworks' announcement today that they have secured up to €45M of debt funding could be a significant shift. euNetworks has earmarked the funds for either organic or inorganic growth, but they don't really need that kind of money for growth of the organic variety at present.
With European valuations low and lots of available targets of all sizes, I have been expecting consolidation activity to pick up for some time. euNetworks already did some of that with the LambdaNet and TeraGate purchases two years ago, but they are clearly ready for the next round. And while they're obviously not going to commit to particular targets, I'm guessing they have a few specific ideas in mind already. So what might they buy?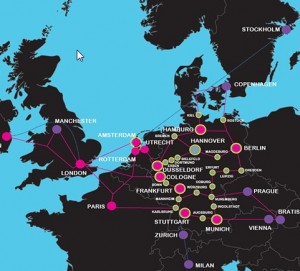 Fiber of course, but in terms of geography I'm thinking something in France might make the most sense, as their Paris fiber looks kind of lonely. Maybe Morgan Stanley and friends would be ready to part with Viatel/VTLWaveNet at last. Alternatively, Neo Telecoms (who themselves bought MIT Group last year to add fiber in Southern France to go with their Paris footprint) might be just the right size.
Or they might look north to pick up some fiber in Scandanavia (IP-Only? Nianet?) or even south into Switzerland or Austria although I know much less about independent fiber assets in that area (anybody?).
Actually, the list is quite long. They could look for more breadth in the British Isles in a number of ways (Geo, SurfTelecoms?). They could fill in a few gaps by going after someone like Inexio. And they could even take a trip around the Baltic and go after LinxTelecom. And there are surely many single market metro assets out there that remain beneath my radar.  It's a matter of which owners are ready to make a deal and which have plans of their own in mind.
Unlike in the US where most of the obvious assets have already been snapped up, European fiber looks ripe for the picking – even if it is more a more complicated, non-homogeneous market to do it in. euNetworks definitely sees itself as a platform for consolidation at present, I don't think it will take all that long for them to find something to do with their new funds.
If you haven't already, please take our Reader Survey! Just 3 questions to help us better understand who is reading Telecom Ramblings so we can serve you better!
Categories:
Financials
·
Mergers and Acquisitions
·
Metro fiber