Another opportunistic fiber M&A happened today, but this time it was over in Europe.  euNetworks (SIN:H23, news) is nearly doubling its weight with the purchase of LambdaNet from 3U Holdings.  LambdaNet's network lies mostly in Germany, with a bit in both the Czech Republic, Denmark, and Austria.  That includes metro networks in Frankfurt, Munich, Dusseldorf, Hamburg, and Copenhagen – the last of which will be a new market for euNetworks.  LambdaNet also operates 25 data centers across the region.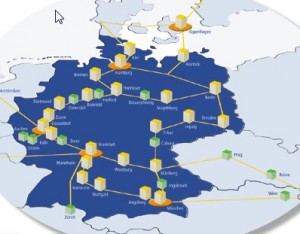 Overall, the LambdaNet purchase complements euNetworks footprint nicely by adding muscle in its German markets while extending coverage further to the east and north.  The price is €27M in cash plus the assumption of €7.8M in debt and about €10m in capital leases, for which euNetworks is apparently adding about €37M in revenue and €10M in 2011 EBITDA before cost savings.  Yes, that does appear to be about 4xEBITDA before synergies – prices apparently aren't so high across the Atlantic.  And there surely will be synergies, as euNetworks has metro fiber in several German cities where LambdaNet has customers.
3U bought LambdaNet Germany back in 2004 after the bubble burst, supposedly outbidding Cogent and Interoute at the time.  Cogent had already bought the LambdaNet France and Spain at the time.  Things apparently didn't go as planned for 3U, as back then they were said to have revenues on the order of €54.  For euNetworks though, the deal could be transformative, taking their revenues up toward an annual run rate of €80M giving them needed scale on those metro assets.
I had wondered if Lambdanet might be available for some time, but actually I had thought that Interoute would be the likeliest buyer.  However, Interoute bought KPN's German fiber earlier this Spring though, perhaps they have what they want there already.  Regardless, the European fiber market appears to be finally loosening up.  Especially in Germany, as when you add in the LVLT/GLBC deal this makes three nationwide fiber networks that have changed hands in the past three months alone.  I think there will surely be further activity this year, though I'm still trying to figure out which assets are likely to be available.
To pay for the purchase, euNetworks will undertake a rights issue, as its backers in Singapore will apparently be anteing up.  The deal is scheduled to close on May 31.
If you haven't already, please take our Reader Survey! Just 3 questions to help us better understand who is reading Telecom Ramblings so we can serve you better!
Categories:
Mergers and Acquisitions
·
Metro fiber