The shares of TW Telecom (NASDAQ:TWTC, news, filings) jumped unexpectedly yesterday just after lunch. It seems all it took was comments by Corvex's Keith Meister at the Ira Sohn conference to the effect that tw telecom is a likely M&A target. This is not the first time this rumor has hit the mill, and it won't be the last.  But if he's right, who would be doing the buying?
Not Level 3 I think. Oh, the asset fit is a fine one and does get better all the time given Level 3's shift toward enterprise revenues. Combined the two companies would have in the neighborhood of 30,000 buildings on-net, and there would certainly be synergies that could be derived along the way. The metro and intercity footprints themselves are fairly complementary, as tw tends to be stronger where Level 3 is weaker, and vice versa. But the dynamic is that tw telecom would require a premium that there's little chance Level 3 would agree to right now. Level 3 just emerged from an era where it had to buy in order to achieve the scale to shoulder its own debt. Their problem in the US is finding the formula for real organic growth, and they know it. And if they do want to spend a few billion dollars, it will surely be in Europe where they can get more bang for their buck.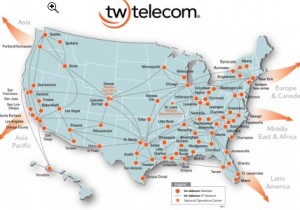 Until last year this time, I'd have laughed at the possibility of Zayo coming up with the more than $5B it would take to buy tw telecom. But there's no reason the path they took to buy AboveNet couldn't be replicated on a stage three times the size. The private equity money is there if the price is right. The asset fit is a very good one, although I don't know if the enterprise/wholesale differences would mesh all that well.  But I'm certain Dan Caruso and his team would love to get their hands on tw's fiber and on-net buildings if the opportunity arose.
But Comcast, which Meister also mentioned, seems like a long shot to me. Sure they could do it, but a piece of tw telecom's footprint runs through TW Cable's conduits and there are non-compete conditions there as I recall that could make things tricky. But more to the point, Comcast has plenty of runway to work with on the smaller end of the enterprise market, and tw's footprint would take them far outside their home turf much of the time. There would be fewer synergies available in a deal with a cable MSO as well, so they'd really have to want in on the mid to larger enterprise market.
AT&T or Verizon are unlikely buyers of course. Neither has shown any interest in buying fiber assets, as both are focused so tightly on wireless these days. With the FCC in still fairly unfriendly hands, it also seems likely a move on tw telecom's enterprise-heavy fiber footprint would face substantial scrutiny.  Windstream probably doesn't have the firepower at this time, but it's not entirely out of the question of course.  Of the major ILEC networks, CenturyLink is by far the most likely.  They could certainly pull it off, they have the most need for the assets and could find a whole lot of synergies, and they were the rumor of choice last autumn. But they don't seem too interested right now in consolidation or in paying up for it.   That could change of course, but I'm still skeptical.
Then there is the rest of the private equity-backed field, the most obvious of which is probably Lightower. Like for Zayo, the possibility of them making a move on tw telecom not as unthinkable as it once was and the asset fit is pretty good.  But it's probably less likely than it is for Zayo just given the limited geographical overlap.
I don't see any large foreign-based network operators as terribly likely, since right now they could probably get Level 3 at a cheaper multiple and with a customer list they're more likely to relate to.
Personally, though, I still think tw telecom ought to be the one doing the buying.  The network platform they've put together would be great for consolidation, and they could fill the few remaining holes in their footprint and product set.  My favorite target for them has historically been XO, but such a deal has obviously never materialized.  Ah yes, Meister was on XO's board of directors – small world…
If you haven't already, please take our Reader Survey! Just 3 questions to help us better understand who is reading Telecom Ramblings so we can serve you better!
Categories:
Mergers and Acquisitions
·
Metro fiber