While lately I have been looking at potential fiber M&A outside the US, it has been in Europe, Latin America, and Asia. But last week it became clear that there is a substantial fiber asset availble a bit closer to home, as the alternative Canadian operator MTS said it would be formally reviewing strategic options for its Allstream business.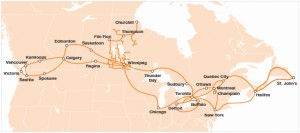 Allstream runs 30,000km route miles of fiber across Canada, including 18,000km intercity with the rest in the metro hooking up more than 2,500 on-net buildings in major cities across the country. These assets were once called AT&T Canada and were combined with the MetroNet and LedCor buildouts of the bubble era as well.
It's a substantial network asset that was basically off-limits to outsiders until the Canadian government finally relaxed ownership restrictions on telecommunications assets earlier this year. Revenues for 2012 will be a bit under $800M, with lots of legacy voice revenues churning off as they invest in their IP services and fiber connectivity (a familiar story). EBITDA for 2012 will be perhaps $110-120M, and my guess is a sale price would be in the $500m range, give or take.
Most of the media reports mention the likes of AT&T and Verizon as suitors, but I find those possibilities remote – they're just not very interested in investing in fiber networks these days, let alone in ones that are churning off legacy revenue. Rather, I think it more likely that competitive US operators, aggressive foreign buyers, or perhaps private equity will be the ones to step up to the plate.  Here's a quick review of some of the usual suspects:
America Movil & Carlos Slim: He's been very active in Europe lately, and clearly has money to spend. Now that Canada's doors are open, it seems entirely reasonable to me that Slim could be in the market for a piece of the action north of the border. While he seems to prefer incumbent assets where he can get them, I'm pretty sure he's omnivorous. But more importantly, judging from Slim's European activity, he might just want a piece of the game and influence over operations rather than direct ownership. That might be exactly what MTS is looking for rather than an outright sale.
Level 3 Communications: While they're probably looking more at Europe, Level 3 has long felt stymied by Canadian regulations after originally building out its fiber network through Toronto and Montreal.  The barriers are now much lower and the price tag for Allstream wouldn't be that painful while giving Level 3 an immediate national presence.  The enterprise focus would fit well with their current expansion plans in the US and Europe, and the legacy voice business is similar to the one they already run for margin contribution.  The Global Crossing integration would be winding down by the time such a deal closed, so it could happen if the price is right.
Tata Communications: Following their serious interest in C&W Worldwide earlier this year, it's clear that Tata is open to the idea of buying fiber assets internationally that complement their undersea fiber and global IP business. Tata's business already has some Canadian roots, as Teleglobe was one of the key pieces they assembled it from. That being said, C&W's international corporate business was a better fit, and it's not clear that Tata would want to simply enter the Canadian market in this manner unless the price were really right.
Private Equity: There is still a lot of money out there interested in the fiber business, with fewer and fewer reasonably priced targets in the US. Canadian data center assets have been getting more attention, and fiber may be next.  As mentioned before with Carlos Slim, the end result could be more an investment than a buyout in this case.  The backers of someone like Hibernia Atlantic, with an existing Canadian presence, might see some opportunity here as well.
Zayo: Now that Dan Caruso has rolled his way to a fully national US footprint and a European foothold, what's wrong with adding some Canadian fiber? It's well within their means, however they probably have better targets.  Moreover, the AboveNet integration is probably enough to keep them busy for a few quarters.  Also, Allstream's heavy voice component wouldn't fit well despite the uniqueness of the fiber footprint.
XO and Carl Icahn: This is probably a remote possibility, but Icahn is quite unpredictable and the fact that he has recently been sniffing around Broadview has shaken up my perception of his intentions.  The price would be an affordable way to change the current dynamics and the assets and business models are quite complementary. On the other hand, Icahn really shouldn't buy another fiber asset he doesn't understand in a new geography and he probably realizes that.
CenturyLink, Windstream: Nah, neither has shown much interest in assets outside the US, and each is busy with its own integrations right now.
BT/DT/Orange/Teliasonera/Telefonica: No indication they'd be interested, although never say never.
tw telecom, Cogent, Inteliquent: Too far outside their comfort zone.
Sprint: Not going to happen.
The larger Canadian network operators have all passed on these assets over the last few years, so they're probably not going to pony up.  Any other possibilities out there that are worth considering?
If you haven't already, please take our Reader Survey! Just 3 questions to help us better understand who is reading Telecom Ramblings so we can serve you better!
Categories:
Internet Backbones
·
Mergers and Acquisitions
·
Metro fiber