While much of the talk with respect to XO in recent quarters has been about a likely sale, it appears that the company's owner, billionaire Carl Icahn, may have decided to go in the opposite direction. According to an SEC filing last week, an affiliate of Icahn Associates called High River made a bid for Broadview Networks, which recently announced plans to restructure through a voluntary bankruptcy.
According to the filing, High River offered $165M in cash and $10M in loans for 70% of Broadview. Broadview said the offer was inferior to its existing reorganization plans, however it seems unlikely that this was the last word. If Icahn is in fact interested in Broadview, he would almost certainly be looking to combine the assets with those of XO. And indeed, there are rumors out there circulating that such a deal may be close.  A move by Icahn to first buy a stake in the company's debt and then make a lowball bid during restructuring is one of his classic approaches, testing the waters before making the real offer.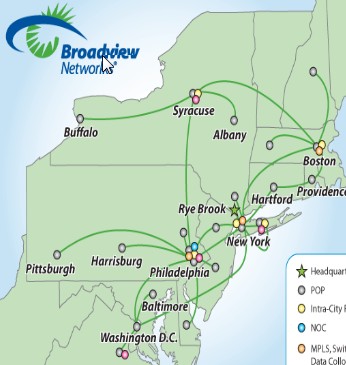 A combination of XO and Broadview does make some strategic sense. XO's metro fiber footprint in the northeast would fit well with that of Broadview, with good synergies available on paper for the price they'd pay for the assets.  Broadview has been looking for a suitor for a long time with no success, and while their current restructuring plan may help the balance sheet it doesn't really do much to change the strategic situation for them.  A sale is probably still their favored way out, provided the price is fair.
Such a deal would certainly turn upside down the general expectation that Icahn is preparing to sell XO following the one year anniversary of the squeezing out of minority shareholders.  XO has spent that year restructuring behind closed doors under the auspices of interim CEO Laura Thomas.  Just what those efforts have wrought has been hard to determine, although fewer people, fewer legacy products, and more cloud seem to have been the major themes.
Icahn has not had much success with his investments in telecom thus far, and I've long thought he is not the right owner for XO's assets.  The bid for Broadview, whether it turns into some sort of deal or not, shows that he may nonetheless be ready to take another substantial swing at the sector.  Or, I suppose it could just be a feint — playing hard to get in order to induce a higher bid for XO later on.  We shall see.
If you haven't already, please take our Reader Survey! Just 3 questions to help us better understand who is reading Telecom Ramblings so we can serve you better!
Categories:
CLEC
·
Mergers and Acquisitions