As I expected might happen today, Zayo Group (news, filings)'s purchase of AboveNet is now officially a done deal. Zayo has come a long way from its earliest days picking off lesser known assets like Indiana Fiberworks and Memphis Networx, and is one of the largest fiber operators in the country. They have 61,000 route miles of fiber, 4.6M fiber miles, 20 colo facilities, and about 9,000 on-net buildings.  Of US network operators, only the incumbent operators (T, VZ, CTL, WIN), Level 3, and tw telecom have similar or greater infrastructure scale.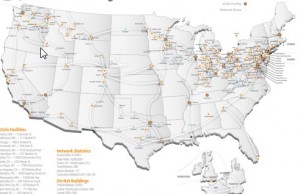 The integration will be the most complex that Zayo has yet attempted, with lots of lit WAN and Ethernet circuits, large enterprise customers, and for the first time an international division with a big London footprint and a starter set across the English Channel.  In the PR, Zayo projects some $77M in annual synergies, resulting in annualized EBITDA levels of above $525M for the combined company after integration.
For the most part though, AboveNet's Tier 1 footprint is simply complementary to Zayo's more Tier 2, 3, and 4 oriented assets, and thus won't require as much work. In a few larger markets like Atlanta and Philadelphia there is substantial overlap, but in most Tier 1 markets (NYC for instance) Zayo just went from small to large, from ignorable to definitely unignorable.
Under CEO Bill LaPerch, AboveNet steadily climbed out of the depths of the MFN implosion of the bubble a decade ago to become a big part of the growing metro fiber revolution. AboveNet didn't make any acquisitions, but rather it invested all its capex in organic growth opportunities. I had thought they might become an M&A platform themselves, but in the end those owners from the bubble years were more ready to move on than to ride into new territory.  If anyone had said five years ago that AboveNet would be sold for $2.2B today, they'd have been labeled a loon at best.  I'm sure we'll be seeing Bill LaPerch again before long.
Zayo still has its acquisition of DC-area FiberGate to work on in Q3, but that is a pure dark fiber asset and a less complicated project by far. While you never can tell when and where Dan Caruso may find a fiber asset to bid on, I think we're more likely to see six months of relative quiet on that front.
Investors now have one less way to invest in fiber networks and their builders, at least until Zayo decides to go public.  Where will they put their money now?
If you haven't already, please take our Reader Survey! Just 3 questions to help us better understand who is reading Telecom Ramblings so we can serve you better!
Categories:
Fiber Networks
·
Mergers and Acquisitions
·
Metro fiber