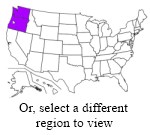 A collection of metro fiber maps for networks for the Rocky Mountain states: Colorado, Wyoming, Montana, Idaho, Nevada, and Utah.  The southwestern states of Arizona and New Mexico have their own page.    The major metro fiber to be found here is obviously in Denver, followed by Salt Lake City and Las Vegas, with a smattering in other metro areas like Boise and Colorado Springs.  I should note there are also regional fiber providers in several of these states who probably have metro assets as well.
Company
Fiber Maps
Lit/Dark
Comments
ACT
WY: Buffalo, Sheridan
lit
Fatbeam
Post Falls, Coeur D'Alene, Butte
both
Forethought.net
Denver
lit
Idaho Falls Power
Idaho Falls
both
Level 3 Communications
Boise, Cheyenne, Colorado Springs, Denver, Fort Collins, Greeley, Las Vegas, Salt Lake City
both
Google Maps, zoom in
Unite Private Networks
Aurora, Craig, Denver, Florence, Longmont, Pueblo, Westminster,Havre
dark
Windstream
Denver, Colorado Springs
both
Zayo
Billings, Boise

, Colorado Springs, 

Denver, Las Vegas

, Reno, Salt Lake City, Billings, Bozeman, Butte, Helena, Missoula, Cheyenne, Coeur d'Alene

both
Google Maps Interface, zoom in

Still seeking maps for the following known providers:
Cogent
Denver, Salt Lake City
lit
On-net buildings tool
PAETEC
Denver, Salt Lake City
lit
XO
Denver, Salt Lake City
both
Where possible, all links are to material offered on the websites of the company operating the fiber.  I prefer such links, but will sometimes host the files myself where the operator agrees, and in rare cases may point to third party sources.  Where available, links to on-net building lists are also given.
Additional maps of metro fiber networks that ought to be on this list are very welcome, as are corrections to the above links. Please just leave a comment below or send an email to info@telecomramblings.com.