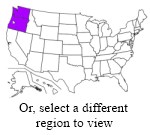 A collection of metro fiber maps for the states of Arizona and New Mexico.  Well, mostly that means the Phoenix metro area right now.  I don't actually have any maps at all for New Mexico yet, but if I find any this is where they will go.  There's not a lot of competitive fiber in the desert southwest, which of course isn't that surprising.  But there really ought to be some in a few of the larger cities beyond Phoenix…
Where possible, all links are to material offered on the websites of the company operating the fiber.  I prefer such links, but will sometimes host the files myself where the operator agrees, and in rare cases may point to third party sources.  Where available, links to on-net building lists are also given.
Additional maps of metro fiber networks that ought to be on this list are very welcome, as are corrections to the above links. Please just leave a comment below or send an email to info@telecomramblings.com.