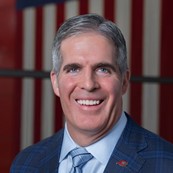 This sponsored article was authored by Tag Greason, Chief Growth Officer for QTS Datacenters
Digital transformation continues its unrelenting march with massive data digitization initiatives in full swing. Artificial intelligence (AI) and machine learning (ML) are enabling new applications and services once thought to be beyond the reach of computing technology. Hyperscale and mega-scale internet businesses such as Amazon, Microsoft, Oracle, Uber, and social media platforms are now an integral part of our lives and exemplify a new global digital economy.
As a result, exponential data growth is impacting large and mid-size enterprise requirements for even larger technology stacks to store, compute, analyze and move the data. Enterprise IT deployments are expanding and starting to take on hyperscale-like requirements for data center space, power and connectivity ecosystems.
Corresponding with the substantial unit of growth increases is the need for large organizations to scale their IT infrastructure and data center requirements accordingly. What used to be normal requests for 250-500 kilowatt (kW) of enterprise data center deployments are now requests for 20 – 200 megawatt (MW), multi-building, multi-geography, or campus environments.
Access to Infrastructure
Just a few years ago data center location (or availability zone) played a primary role in the data center selection process. As data center requirements and costs surge, it is becoming less about location and more about "access to infrastructure." Data center selection criteria for large organizations has evolved from "Are you in my availability zone?" to "Can you give me a roadmap to 150 megawatts?" because they are all struggling with the most important component of all – access to infrastructure. For large organizations, the first question typically is what company has access to land, fiber, and utility infrastructure in multiple markets that can meet our extremely aggressive timelines? 
As a result, data center investments are increasing and thus increasing scrutiny of data center providers, their qualifications and their ability to deliver in this rapidly expanding IT infrastructure paradigm.
While the world's largest hyperscalers still build some of their data centers themselves, they are now migrating to growth strategies that include data center providers who can more often build faster and cheaper.
Need for Speed (to Scale)
One of the biggest challenges (and differentiators) for data center providers is to have available inventory, combined with speed-to-delivery. When evaluating data center providers, their ability and speed to scale — easily add or subtract compute, power and storage resources, in different data centers and geographies – and their ability to provide sustainable infrastructure are at the top of the list. Equally important is the provider's ability to offer a connectivity ecosystem featuring a myriad of interconnection, fiber and cloud access. 
A data center developer's "speed-to-scale" is tied directly to its operational maturity and its ability to deliver a highly scalable infrastructure solution in the shortest amount of time. Achieving a higher level of sophistication takes years and requires a commitment to excellence, operational partnership, and discipline across every organizational department.
Today, there are less than a handful of data center providers with the combination of resources and operational maturity required to deliver speed-to-scale access to infrastructure. The leaders feature unmatched operational expertise in the development of mega-scale data center campuses.
The best providers have:
Access to substantial capital
The ability to lean forward on land acquisition
Real-estate and tax expertise
Established relationships with regional utilities
Deep experience with supply chain and construction management
Local legislature and policy expertise
Innovative modular and sustainable building designs to deliver on giga-scale data center requirements
It is this ability to secure and deliver the infrastructure needed that also serves to de-risk the go-to-market strategy for the large organization evaluating the data center provider.
With digital transformation now in full swing, there is no shortage of demand for data centers, but available power is becoming a big challenge. Eighteen months ago, QTS had two people in its utility group. Today it has grown to 26 utility experts and counting. While we are far down the path of supplementing utility power with renewable energy sources, we recognize that regional utilities are one of the most important areas of operational partnership required to maintain growth.
Capital is Key
The current economic climate is certainly making it more challenging. Cost of power, construction, equipment, materials, labor and the cost of money are all up. This has forced publicly traded data center providers and enterprises into a position of wait-and-see. Conversely, QTS is extremely fortunate to have the power of Blackstone behind us. We are full speed ahead.
QTS' acquisition by Blackstone, the world's largest alternative asset manager, has dramatically changed our ability to deliver at speed. We are able to lean forward with our plans to develop and deliver gigawatt campuses in eight markets throughout the country.  
Access to capital has allowed us to accelerate the deployment of our innovative Freedom design and building specification. QTS' Freedom design is based on years of experience working with our largest customers to develop repeatable systems and processes. It allows us to provide highly flexible and sustainable infrastructure that future-proofs the investments of our large enterprise and hyperscale customers. We know that densities will increase, cooling strategies will change, CPUs will go to GPUs and XPUs, and we are ready to support what's next. Modular building designs and processes enable highly scalable digitized data centers and infrastructure to be architected accordingly in the shortest time possible.
Sustainability Imperative as Power Requirements Increase
From a sustainability perspective, standardized data center designs are enabling much more power utilization efficiency (PUE) and water utilization efficiency (WUE). Enterprise customers can now pinpoint power and cooling to specific spaces to facilitate double-digit PUE improvements. Freedom's flexibility is exemplified by its ability to increase or decrease density and ability to flexibly swap options for cooling as density requirements range from 5 – 50 kW/rack. We have deployed water-free cooling solutions that, when paired with renewable energy, are some of the most water-efficient data centers in the world.
Early Days
Digital transformation is just getting started. While digital change has become a priority in corporate board rooms, it is an evolution still in its infancy requiring C-level buy-in, up-skilling of digital capabilities and the adoption of enabling digital technologies.  Across industries, change is happening in shorter waves than ever before, and CEOs feel the pressure but recognize the opportunity for the entire organization.
And while the current wave of digital transformation's impact on IT infrastructure is astounding, there may be an even bigger wave coming in the requirements associated with delivering AI and ML. It will demand radical innovation in semiconductor chips, new network architectures and capacity management. It will require replacing supercomputers originally built for things like weather forecasting and molecular modeling and will call forth a new category of specialized cloud systems, unlike anything we do now. It is in its infancy, but businesses globally are already developing entire business models on what they might do.
It's hard to comprehend the changes that are coming, and it is fascinating to be a part of it.
###
If you haven't already, please take our Reader Survey! Just 3 questions to help us better understand who is reading Telecom Ramblings so we can serve you better!
Categories:
Datacenter
·
Sponsored Posts