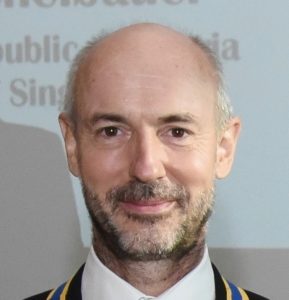 This Industry Viewpoint was authored by René d'Avezac de Moran, Fugro Singapore Marine
There's no denying that the region is undergoing a technological renaissance. There are an estimated 460 million internet users across six markets spanning Indonesia, Malaysia, Singapore, Thailand, the Philippines, and Vietnam. Combined, these markets play an instrumental role in powering Southeast Asia's digital economy, which is projected to reach $1 trillion in gross merchandise value (GMV) by 2030.
As subsea cable lines are the backbone of global communications grids, there must be adequate capacity to handle greater internet traffic. Cables must be reliable and resilient enough to provide round-the-clock internet access. A comprehensive network of subsea cables helps to reduce IP transit costs to internet service providers, which in turn makes broadband internet more accessible and affordable for users.
Where there is opportunity, capital follows.
Significant regional milestone partnerships have been inked of late, including the $300 million Asian Link Cable (ALC) project, led by six Southeast Asian telecoms operators including China Telcom Global and Singtel; a 6,000 km submarine cable network, and the $400 million MIST project which includes a 8,100 km-long undersea transnational fibre optic cable system connecting Mumbai with other ASEAN countries such as Myanmar, Thailand, Malaysia and Singapore.
How environmental and physical risks are affecting the sustainability of subsea cable networks
As cable distances are getting longer and transporting increasing data loads, the need to plan, design and build subsea cables to ensure long-term reliance and reliability, cannot be underestimated.
This need is exacerbated with increasing environmental and physical impacts such as extreme weather events, ocean industrialisation such as anchoring of ships and uptake in deep sea fishing, and ongoing seismic activity causing subsea cables increasingly vulnerable to damage.
The cost of repairing a subsea telecoms cable averages US$1 million, while annual maintenance cost is around 3-5% of the capital cost. This does not include indirect financial costs accrued due to continued business and communications disruptions.
In 2006 and 2011, more than 10 cable systems which were laid across the Luzon Strait between the Philippines and Taiwan, located on the Ring of Fire, have been damaged in major earthquakes, which resulted in major cable rerouting decisions to prevent future disruptions, at great cost.
Ramifications to disruptions in such critical infrastructure go beyond financial losses alone. Following the severance of the submarine network carrying data traffic to Jayapura in Indonesia in May 2021, more than 500,000 people lost internet access. While there was satellite backup, mobile data speed and bandwidth were severely affected, with cable repairs taking more than a month to complete.
Role of geo-data and technology-led planning in subsea infrastructure
To help navigate these challenges and ensure the future sustainability of Southeast Asia's digital ambitions, the need for extensive geo-data to better assess the operational risks and routing constraints for the cables greatly increases. Putting this into practice requires expert understanding of the metocean conditions, stratigraphy, thermal properties of the soil, and geotechnical design along the cable route.
But gathering data is just the beginning.
By using advanced climate modelling and risk assessment techniques, subsea cable operators can identify areas of high risk and design infrastructure that is resilient to these risks and improve the reliability of subsea cable infrastructure against both natural disasters and manmade accidents. Key to this is technology such as Augmented Reality (AR) playing an unexpectedly key role in subsea infrastructure planning.
The application of advanced geo-data technologies, such as high-resolution mapping and remote sensing, can help subsea cable operators identify suitable cable routes and avoid areas of high environmental sensitivity reducing the risk of damage to the marine environment and ensuring the long-term sustainability of subsea cable infrastructure.
Geophysical surveys cover a larger area compared to geotechnical investigations, which are typically carried out along a designated route. If a planned route is unsuitable, then a new route needs to be selected, within the existing survey data which aids in making informed engineering decisions, especially when the new cable route traverses different seabed zones.
Some in the industry, such as Fugro, are tapping into the potential of AI and Machine Learning to improve their subsea asset positioning capabilities. Augmented reality has been particularly useful in subsea drilling and construction support operations, allowing industry players to access accurate subsea asset positioning, without the need to install physical infrastructure that can be expensive and at the same time increase Health, Safety, Security & Environment (HSSE) risks.
To meet the region's unabated digital appetite and online consumption patterns, subsea cables will be vital in ensuring the region economic security and digital growth aspirations. With advanced technologies such as high-resolution mapping and remote sensing, project developers and planners can identify areas of high risk and design infrastructure that is resilient to environmental and physical perils.
If you haven't already, please take our Reader Survey! Just 3 questions to help us better understand who is reading Telecom Ramblings so we can serve you better!
Categories:
Industry Viewpoint
·
Undersea cables