This Industry Viewpoint was authored by Andy Burrell, Head of Portfolio Marketing, Nokia
The climate crisis is putting pressure on all industries to become more sustainable, with cutting carbon emissions now a top priority for the C-suite. With energy prices remaining worryingly high, slashing the energy used by telecom networks is also good for the bottom line. And AI-based software can help not just communications service providers (CSPs) but also enterprises with their own private networks to become more sustainable. 
Network sustainability: a fiendishly difficult challenge
Addressing the complete lifecycle of the network itself is important, but for simplicity let's focus on the operational phase. This "in-life" stage generates the vast majority (up to 90%) of GHG emissions. Before exploring the role of AI in potential solutions we need to acknowledge the difficulties we face and examine three of the main barriers: complexity, data management, and inertia. 
Complexity: Networks have always been complicated. For example, a CSP network might be spread across tens of thousands of physical locations, with hundreds of thousands of hardware elements and millions of tunable software parameters. The private networks used by enterprises are typically much smaller in scale, often covering a limited geographic area, such as a factory or harbor. However, these private networks introduce additional complexity because of the plethora of devices and operational technologies connected to them. 
When optimizing energy use in a CSP network, we need to maintain a great experience for paying subscribers – but in a private network, we need to ensure that there is zero impact on the delivery of mission-critical services or the potential safety of human workers. The adoption of cloud-native architectures is leading to further complexity with CSP network functions and enterprise applications being disaggregated and distributed across multiple cloud environments. 
In 2021, Flexera reported that the average enterprise had its data and applications spread across 5.3 different cloud environments – and whilst CSP networks are not yet as fragmented, they are certainly moving in that direction. Finally, ESG reporting standards are still evolving and practices differ widely making it difficult to adopt a unified approach.  
Data management: All the data that we need to solve the network sustainability challenge is out there, but the problem is that most of the time it's not readily available. Sometimes we don't know where to find it; sometimes we have trouble accessing the data; and sometimes the quality is just not good enough. A lot of these issues are a result of the network complexity outlined earlier, and they are often compounded by the traditional approach of using a centralized "data lake." 
Consequently, data scientists can spend the majority of their time on repetitive data management tasks instead of focusing on solutions to the sustainability challenge. Data governance is another, related issue. Network sustainability is a planet-sized problem, and collaboration with partners, suppliers and customers will be essential to solve it. But we need to be able to share data, reports and insights in a secure manner, without breaching privacy or data sovereignty regulations.
Inertia: The need for a new approach to reduce energy usage might appear to be a "no-brainer," but this is not just a technology problem – we also need to consider the human dimension. Humans are often resistant to change – organizational silos, personal agendas and a desire for control can limit the spread of new ideas and hinder the sharing of data that is essential to tackle the sustainability challenge. Indeed, as Peter Drucker once noted, "Culture eats strategy for breakfast." 
We must also recognize that CSPs and enterprises are not starting with a blank piece of paper – their networks are mostly brownfield deployments that have been built up over many years, or even decades. Naturally, they will want to maximize the return on those legacy technologies and will expect a compelling business case to justify any new investments. A "rip and replace" policy will probably not be popular.
Potential solutions to the network sustainability challenge: time for AI
There is a lot of hype and early discussion right now about the potential of generative AI (GenAI) – but machine learning (ML) has been around since the 1950s – and has been used for many years to tackle network sustainability. In mobile networks, ML is helping maximize the use of sleep modes in radio base stations. In IP and optical transport networks ML is predicting traffic patterns and providing more granular power controls. And in data centers, ML is optimizing temperature and processor operating speeds. What else can we do?
First, we could start by tackling the complexity challenge. One solution could be observability, to deliver a better understanding of what is happening across disaggregated networks and empower more advanced AI. Observability would provide the overall context and explain dependencies between different network functions, applications and services.  Extended Berkeley Packet Filtering (eBPF) is an interesting technology that can deliver granular insights and control for Kubernetes environments.
Next, we might want to re-evaluate data management and how we can free up access to data. Data mesh architectures may provide the answer here by providing an agile and distributed alternative to monolithic data lakes. Instead of extracting, transforming and loading all the data into a huge, centralized data lake, a data mesh instead exposes data via application programming interfaces (APIs). 
Data is federated and virtually combined from different sources into "data products" that can be published in a catalog to make life easier for data scientists. Data meshes can also provide a secure framework for the sharing of sustainability-related data with partners, suppliers and customers.
What about inertia? Well, change needs to come from the top and usually requires a "compelling event" to spur action. Perhaps the much-maligned EU has provided a solution here with the newly introduced CSR directive, which asserts that companies that breach sustainability reporting regulations now face fines of up to 6% of turnover or even jail time for their executives. 
That sounds like a compelling reason for leadership and a new approach to network sustainability. Modern AI and analytics tools will help executives with the consistent, reliable and holistic reporting that they need to fulfill their obligations and justify investments to boost network sustainability. And of course, ensuring that AI is not a "black box system" and that outcomes are explainable will also ease adoption and minimize resistance.
Lastly, let's not sleep on GenAI! Generative AI could act as a translation layer – helping humans to interrogate complex networks or pull together a consolidated view from disparate systems. Perhaps one day soon a human could simply specify a goal – such as, "reduce energy consumption without impacting quality" – and AI-based software would automatically take care of orchestrating the needed changes and managing any trade-offs in the network. Such a system would undoubtedly be good for the planet and the bottom line.
---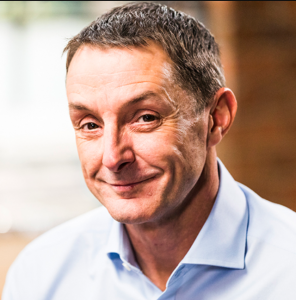 Andy Burrell leads marketing and communications for Nokia's Business Applications portfolio. After more than 25 years in the telecoms industry he remains fascinated by the possibilities of technology, in particular the potential of 5G, automation and AI. He loves to use his various devices to keep up with social media, news, and above all, the football results.
If you haven't already, please take our Reader Survey! Just 3 questions to help us better understand who is reading Telecom Ramblings so we can serve you better!
Categories:
Artificial Intelligence
·
Energy
·
Industry Viewpoint