While intercity fiber buildouts have sprung up in recent years, it has still been several decades since there has been a project that successfully spanned the continent, though Allied Fiber certainly made one attempt to rally folks. But today we have a new entrant into that space. 3Red8 today announced plans for a fiberoptic transport network from coast to coast as well as from Canada to the Gulf of Mexico.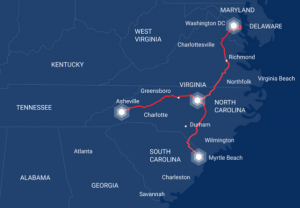 Well, first they are taking on the eastern seaboard. Their first phase will be fiber connecting the DC metro area with key endpoints in North and South Carolina, stretching south to Myrtle Beach and west to Asheville. The routes leverage the I-95 and I-40 corridors, and are expected to be ready for service in 2023.
The longer term plan calls for two cross-country routes by the end of 2027. The east-west route would connect Wilmington, NC with Los Angeles, CA, while the north-south route would connect Pembina ND with Texas City, TX. The two routes appear to cross in Kansas City. Along the way the proposed network touches 18 states, and would reach into rural, tribal, and underserved communities. And before you have to go look it up, Pembina ND is a town of 512 along I-29 near the border of the province of Manitoba and on the way to Winnipeg.
One cannot deny the diversity such routes would bring to our infrastructure, but the geographical choices are rather hard to grasp at first glance. The management team seems to be led by some relative newcomers to the sector, such as newly minted President/COO Peter Ambs.  There is surely more to this story yet to be told. Hence, I look forward to more information on 3Red8's plans and progress over time.
If you haven't already, please take our Reader Survey! Just 3 questions to help us better understand who is reading Telecom Ramblings so we can serve you better!
Categories:
Fiber Networks
·
Internet Backbones