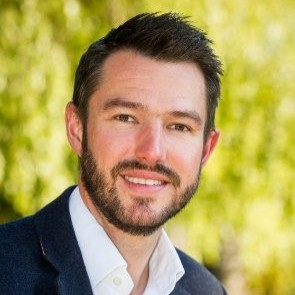 The intersection between data, infrastructure, and energy is a complicated one that all data center and fiber operators pay a lot of attention to. One company with a unique approach to meeting the demand for hyperscale capacities alongside sustainable energy consumption is Norwegian-based Bulk Infrastructure. Bulk's profile has risen dramatically over the last few years with its work on the HAVFRUE and HAVSIL cable systems and the development of major new sustainable data center capacity in southern Norway and western Denmark. With us today to talk about Bulk's approach is Rob Elder, VP Data Centers.
TR: What is your background and how did you get involved at Bulk Infrastructure?
RE: I came through data center design/build from an engineering point of view, working for a fairly small specialist engineering company in the UK for 12 years. Then I joined CBRE, and I ran the projects and consultancy business unit within the data center group at CBRE for three years. A lot of my clients were hyperscalers and data center operators, and from them I noticed a shift from routine efficient operations toward a greater focus on long-term sustainability. And that's when I encountered Bulk Infrastructure. More than just data centers, Bulk is actually a platform for sustainability based on data centers as well as fiber networks and real estate development. It was an interesting company without any direct competition in its totality as a platform business. I thought the culture, the long-term vision, and the big problems that they were trying to address seemed to resonate with me. So, the timing was good, and I found myself working at Bulk. I'm in my second year now. It's a fantastic business, for which I am responsible for the front end: managing the sales team and providing solutions to clients.
TR: What are the origins of Bulk Infrastructure? What opportunity did they see?
RE: Bulk was set up by Peder Nærbø, who is the founder and chairman of the board. Bulk's origins come from the solution to a specific problem in Oslo where the logistics and movement of goods took people through the city center. Oslo was suffering from quite bad pollution during that period. Peder saw an opportunity to buy land and rezone it for industrial logistics, and Bulk has continued to grow on the real estate side and is one of the major players in the Nordics for those types of industrial developments. Then maybe 10 years ago he saw inquiries from different real estate companies looking for different types of asset class, especially data centers. Norway, as a country, was pretty underserviced when it came to international connectivity, but he saw that there were very large US companies and others looking for low-cost, sustainable data center locations that could combine the renewable side of the Nordic power mix with the low cost of energy. At the time, Norway was not particularly alert to the opportunity, but it started to pique Peder's interest, and he has sought to unlock that potential within Norway. Bulk started with the acquisition of the data center site in Oslo, the Oslo Internet Exchange which serves as a key interconnection point. The company combined that with a land purchase, a specific location in Kristiansand, which is at the southern tip of Norway. There was a suitable site located next to one of Europe's largest substations, and Bulk sought opportunities to bring fiber in. It was an opportune moment in time with the HAVFRUE subsea cable planned through North Sea, and Peder saw the opportunity to get involved in that project and encourage the consortium to tee off into Norway. So, we now own the fiber system coming into the southern tip of Norway, which connects via the North Sea around to New Jersey, Dublin and also branches off into Denmark.
TR: How does Bulk approach sustainable digital infrastructure?
RE: We are very much on the journey of supporting companies who see it's not sustainable to continue to build large-scale data centers or are at least willing to look at opportunities to build such facilities further north. The climate is cooler and also you can combine low-carbon renewable energy with a low cost of energy. Sustainable doesn't mean it's just green, it also has to be long-term sustainable from a business sense. Our focus is on providing the platform for that: the data center, the green energy, and the access to large scale, and the connectivity and other digital ecosystems that you need to have to build an Inegrated data center platform. Our vision is about bringing together the combination of different services providers, flexible solutions, real estate, and access to green energy to unlock that potential.
TR: Where within that vision are you focusing your efforts right now?
RE: We are focusing a lot of effort at the moment on how to build on that from an operations point of view. How do you leverage the availability of clean power in the Nordics? Whereas in other markets you are often power-constrained, there's a huge amount of capacity as well. In southern Norway, there are also opportunities where we can combine data centers with other industrial businesses that can make use of the excess heat produced. As well as connecting to district heating, our long-term vision for our campuses is building a more interconnected and circular Industry around the data centers while generally helping companies to lower their carbon footprint.
TR: Why does southern Norway have such a surplus of green energy?
RE: The overall mix in Norway is close to 100% renewable in that the grid is largely hydro power. Many of the hydro power stations are over 50 years old, which comes from a history of industrial uses with aluminum plants, smelting, etc. Norway is divided into different power regions, and southern Norway has the largest share of hydropower with huge reserves of hydro capacity in its reservoirs. So, there is a surplus of renewable energy, whereas in many other markets in Europe you are either power-constrained or the energy is in the wrong place. That's why Bulk decided to build this campus in southern Norway. Another key factor is that the cost of power in Norway can be as much as one-tenth of the price in other markets. If you combine that with efficient cooling, that leverages a cooler ambient temperature, the overall cost is significantly reduced.
TR: Are there opportunities in the other Nordic countries you might follow up with?
RE: We are operational in Denmark with a site at Esbjerg, which was specifically built to facilitate a number of the cable landing stations nearby. We see it as a key gateway for the offload of traffic from fiber systems into both western and northern Europe. We have completed real estate developments in Sweden and Denmark in addition to Norway and, and we are looking to expand that over time, and we're always looking at opportunities to expand with our customers across the Nordics. But at the moment, we're primarily focusing where we're operating.
TR: What about beyond the Nordics? Are there other geographies with similar characteristics you might be able to replicate your success in?
RE: We are planning a new fiber cable to Canada, the Lief Ericsson cable, which fits with the long-term vision of unlocking the renewable giants of the world. Atlantic Canada also has a huge amount of hydro power. It is a very different landscape in that part of the world. But there are some interesting opportunities to combine the two similar power system profiles with a new northern trans-Atlantic fiber route.
TR: How much has Bulk been involved in the terrestrial fiber side of things in Norway and Denmark?
RE: We have built a terrestrial fiber ring within Norway, connecting our site in Kristiansand with Oslo, and then also heading west and then south to connect to Stavanger and Bergen. It's the same with Denmark providing dark fiber or infrastructure from the cable landing station to our Esbjerg facility. We sell that capacity predominantly to carriers and to some of the larger OTTs and are now connecting our Esbjerg and N01 facilities to allow for low latency South from Norway into mainland Europe and in particular to Amsterdam, London, and Frankfurt.
TR: What kinds of customers do you target in on the data center side?
RE: We have three quite different assets in our data center portfolio, so it varies at each location. In Oslo, the data center itself is very much a carrier hotel interconnection site geared around the Nordic market and particularly Norway. The customers are predominantly Nordic or Norwegian enterprise customers or systems integrators, international or local carriers who need PoPs. In southern Norway, it's a combination. Our facility is a key connection point for fiber systems into southern Norway, so it's a PoP for that. But predominantly it's about bringing in enterprise customers, or service providers who are providing large compute infrastructure for enterprise customers, for HPC-, AI-, or ML-type workloads. It tends to be scale customers of half a megawatt up to 10-megawatt future growth that we see coming into Norway. They are not necessarily looking to operate their businesses in Norway, rather they're looking to leverage the availability of low cost, sustainable power. In the medium term, I think that will expand out to other sectors as we build up more of the connectivity ecosystem. If we can bring networks and carriers in that specialize in certain sectors, we could see an increase in different areas of digital services. And Denmark for us is more of a network point for large scale network traffic as well as enterprise at the same time as a backup to some of the customers who deploy in southern Norway. It's not a mega campus like N01 but we can easily scale up to 20 megawatts of total load. There are options for us to expand on to adjacent land, but at the moment it's very much focused on Enterprise and customers who are combining the subsea cable landing with the offload of traffic.
TR: What kind of enterprise applications are you looking to enable in southern Norway?
RE: We did a project during lockdown for a UK-based financial services business in which we deployed their new data center in Norway. They do a lot of AI and quantitative analysis on different transactions, which requires a lot of processing and thus quite high-density, high-performance compute. The cost savings on the power alone was significant versus deploying in London. That kind of case stands up very well financially while also ticking a lot of the ESG and sustainability objectives that these businesses have, and it is 100% carbon free as well.
TR: Thank you for talking with Telecom Ramblings!
If you haven't already, please take our Reader Survey! Just 3 questions to help us better understand who is reading Telecom Ramblings so we can serve you better!
Categories:
Datacenter
·
Industry Spotlight
·
Undersea cables