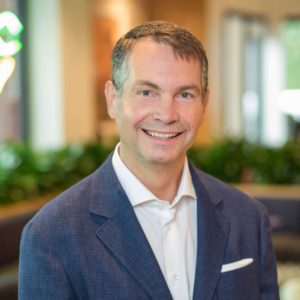 With all the inorganic activity in the infrastructure space, it's always interesting to hear a more organic story.  Bandwidth IG has spent the entire pandemic era ramping up from nothing to extensive metro reach in both the San Francisco Bay Area and the Atlanta metro area. With us today to talk about Bandwidth IG's experiences during this period and its future plans is CEO Jim Nolte, a veteran of the metro fiber business.  Prior to Bandwidth IG, Jim spent six years each at Zayo and AGL Networks.
TR: How did Bandwidth IG get started?  What opportunity did you see?
JN: I was two years into retirement, playing some bad golf and wondering if this was it, when I got a call from some folks at Columbia Capital.  They said they had identified a couple of markets that might be interesting for us to stand up a metro dark fiber network in.  What they had discovered is something we've all been hearing play out over and over again.  There are billions being spent developing data centers around North America and in the world, but nothing being spent on the network. We believe that is incongruent and so that's the business we're chasing.
TR: So how did you go about building out brand new metro infrastructure from scratch?  Where did you start?
JN: We started in Santa Clara, California, in 2019 where we built out a small network of about five miles. The company was founded in 2019 and we were fortunate to assemble a highly skilled team by August or September of that year, roughly six months before the world shut down and cars were removed from the streets. That actually allowed us to get a little more work done on the construction side. Shortly thereafter, towards the end of 2019, we discovered a similar incongruency in Atlanta and began building out a network there as well.
TR: Beyond easier access to streets, how has the pandemic affected your buildout?
JN: Well, we started with a sales plan that included all sorts of great trade shows, and obviously, that all got scotched in relatively short order. Our sales teams have done a tremendous job of getting us in front of customers and helping us build the revenue stream. But it was harder for them, because it's very easy to say no to a Zoom invitation and a lot harder to say no when you're standing eyeball to eyeball. And then it was interfacing with municipalities in order to get permits for construction.  We were heavily involved in a construction phase back in the early days of the pandemic, and in many cases the permitting teams were somewhat sporadically available to us, largely because of the challenges we were all facing with figuring out how to work remotely. So permitting took a little longer than we would have liked. But we think that's mostly in the rearview mirror at the moment, and thank goodness for that.
TR: Silicon Valley and Atlanta aren't exactly underserved markets, what made them so attractive?
JN: The folks that we're talking to are largely the businesses that have been digitally transformed or they're on their way to being digitally transformed. And that's kind of how we see the world. What we have heard over and over again from those folks is that while there may be networks in the ground, there are four things that they're looking for when they're trying to source a network: 1) low signal loss, 2) low latency, 3) diversity, and 4) inventory.  Those networks that are in the ground were placed there 20+ years ago, possibly by a municipal water company, or a gas utility, or another telecom operator.  Then someone else came along and acquired and consolidated them, mashing those incompatible cables together. They wind up with higher signal loss, which is a problem for anyone pushing a lot of bandwidth across a pair of fibers. Then there is latency.  20 years ago, the objective of laying out a network was to get to central offices, to tall, shiny buildings, or to carrier PoPs. With data centers now being the major point of interconnection, you often have to take a circuitous route in order to get from A to Z on some of those older networks.  Our network is placed to get directly to data centers and less distance means less latency. Then there's the issue with diversity. A lot of the networks were placed 20 plus years ago with joint builds, meaning they sit in the same ditch as everybody else.  Even if you have your network spread among several carriers you may find out that you're actually riding in the same conduit.  So as we laid our network, we made sure to understand exactly where other providers are placed so that our network could be placed diversely. And finally from an inventory perspective, 20+ years ago there were 400 million people on the internet, but today, it's 5 billion people as well as 20 billion devices. I don't think anybody placing networks at that time was thinking anything larger than 432-count, meanwhile today, our smallest cable is 1,728. We've got customers taking 432 fibers on their own. That kind of inventory just doesn't exist in some of those older networks.
TR: Fast forward 2 years to today; what does your network infrastructure look like now?
JN: In the SF Bay area we have roughly 60 route miles of network built and we are on-net to 24 data centers. By the end of first quarter next year, we'll have another 90 route miles built out on top of that.  In Atlanta, We have built out about 55 route miles and have 14 data centers on-net and we foresee further expansion. From the Atlanta CBD, we head west.  We have not ventured north towards Alpharetta, as those facilities seem to be well-served.  We see most of the expansion in the Atlanta metro area going west and south. We are 100% underground using directional bore within public rights of way with multiple conduits.  There are multiple sections of our network in the South Bay that have eight conduits, while Georgia's rules require no more than three conduits in the duct bank.
TR: What other markets might be interesting for Bandwidth IG and why?
JN: We look for a network that has some data center clusters in it where those operators are beginning to discuss expansion opportunities in the land banks that they've acquired.  We see those as signals for us to contemplate entry. On top of that, obviously we look for areas with a network that hasn't been invested in for quite some time. 
TR: Other than data center connectivity, what other parts of the metro fiber business does Bandwidth IG target?
JN: We also serve a number of enterprises. We build from their campus back into our fabric in order for them to reach into their data centers. The Bay Area is ripe with those types of opportunities, as there are an awful lot of corporate campuses sprinkled in and among the data centers of Santa Clara, San Jose, Milpitas, and so on.
TR: Many metro fiber operators seem to be looking into FTTH these days, how do you view such opportunities?
JN: Fiber-to-the-Home is a very interesting proposition, and from our point of view it will continue to drive the demand for bandwidth between data centers.  But I don't believe it is really in our DNA to go after that. I think that there is a relatively small needle to thread in order to get that business to work right. We prefer to stay a little lean and mean and drive the business through the enterprise side.
TR: How do you view M&A in today's marketplace?
JN: I originally joined Zayo when they made their 10th acquisition, of AGL Networks, and there were another 20 before I retired.  I still see people looking for bargains. We read every day about how the asset management companies are pouring a lot of money into these businesses.  But in my mind, Bandwidth IG is more organic. We want to make sure that we control the components of the network and don't have to try to cobble together networks that were placed by others. We want to make sure that we maintain the quality of the product that we're putting out.
TR: Do you foresee the need to raise additional capital to continue building out your network, or do you have what you need already?
JN: We have two very generous sponsors that have been very patient with us: Columbia Capital and SDC Capital.  So access to capital has not been a problem to date. We also have a partner on the debt side – ING, that we have a great relationship with.  All these partners are happy with our progress and see great promise in our business.  I think we're all set on the financial side for the next handful of years at least.
TR: Thank you for talking with Telecom Ramblings!
If you haven't already, please take our Reader Survey! Just 3 questions to help us better understand who is reading Telecom Ramblings so we can serve you better!
Categories:
Industry Spotlight
·
Metro fiber