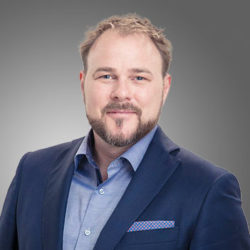 One of the more unique fiber footprints in western Europe belongs to Tampnet, with infrastructure initially designed to support the oil and gas industry in the North Sea, they're now providing access to other industries.  With subsea fiber connecting offshore platforms, these systems also provide diverse opportunities to connect key cities across the region, completely bypassing the usual routes between the FLAP markets and Scandinavia.  With us today to talk about Tampnet's unique approach to the region's connectivity capabilities is Peter Hartlow, Sales Director for Tampnet Carrier.  Peter started out back in 2000 working for European telecom carriers before joining Tampnet six years ago.
TR: What originally attracted you to Tampnet? 
PH: At the time I joined, they were starting a new carrier unit.  What attracted me was that it was not going to be like the traditional carriers.  They came from a completely different angle, owning infrastructure but with the unique element of water.  As an offshore communications provider, now we want to utilize the subsea cable infrastructure that we own, build and operate to offer carrier services. That was, and still is, really exciting. We can be niche, and not have to battle the price erosion that occurs when services are bought purely based on price, but actually based on things like the solution, performance, diversity, or latency that the customer requires.
TR: What types of customers are you targeting?
PH: We are still building up the carrier business unit, and I think that we've done extremely well so far with a number of new customers among the hyperscalers as well as regional and global carriers. We also broke new ground entering the media, gaming, finance and broadcast sectors. Broadcast is an interesting area because they are now viewing the hybrid cloud as the way to move forward, whereas previously they always built their own networks. We have continued to optimize our London-Stockholm route maintaining our position as the ULL provider for the HFT and Financial market.
But as an offshore communications provider, oil and gas is our core industry. I feel that oil and gas companies are the most demanding customers that you can have because they run real life mission-critical operations on these platforms.  But oil and gas were very late to digitalization, relying on satellite communications which is low bandwidth and high latency.  The availability of high-speed offshore services are now enabling digitalization and offering opportunities to cost-optimize and to make their operation more efficient, while reducing their carbon footprint in the process.
TR: In what ways does the digital transformation of oil and gas offshore industry differ from other enterprise verticals?
PH: Take IoT, for instance. It was not long ago that you were not allowed to have handhelds or mobile phones on an oil platform because of the fire risk.  People were taking helicopters out there with pen and paper, writing stuff down, and then returning to shore to type it into their computer. That was obviously a huge constraint for digitalizing the business. Now we see IoT sensors deployed all over an oil platform, measuring vibration, temperature, wind, weather, and everything, monitored onshore without having to send people out to the platform. The more you can remotely operate, the better efficiency and quality that you have on your rig.
TR: What opportunities do you see for Tampnet in the carrier/hyperscale space in this region?
PH: We see the Nordics being a very important area of data center deployment, and we have very good knowledge of where the infrastructure is laid around the Nordics, the UK, and Western Europe. We see a great opportunity to actually create transport routes that allow us to fit into the niche category of solving problems for the carriers as bandwidth volumes increase. There are not a lot of terrestrial fiber routes being built and many are in the same ducts. The appetite for adding diversity and decreasing latency is only increasing. We don't see ourselves as a competitor to the main market players but more as a supplier. They can utilize certain stretches in our network to build a complete solution for their customers.
TR: What does your European infrastructure look like today, and how does it differ from more traditional infrastructure?
PH: We have two subsea cables that run across the North Sea from Norway to the UK that we acquired and stitched together with  existing oil-company-owned fiber.  We connected them in the middle, and then last year we laid a new cable from Egersund out to one of the oil platforms. Then we have a radio/4G network covering most of the North Sea.  We complemented our subsea cables with IRU fibers connecting to data centers in the Nordics and key hubs in Europe. What makes our network so unique is that it is a passive network. An oil platform is a very secure, reliable place to have network equipment. There are not many other people that would be permitted access to the platforms which reduces the risks of your equipment being affected by human error like there could be within traditional colocation facilities where access is given to multiple organisations daily to carry out works.  It's fed by the  same power as the operational part of the oil platform, and oil platforms can never, ever, ever lose power or communications.  Compared to an active subsea cable system, we can modernize , change equipment and upgrade as we choose. The cable itself is 20 years old, when Ciena did measurements on the performance of the actual fiber last year; they concluded that its  quality hasn't lowered at all. The reason is we don't feed power next to the fiber like you do in an active system, so it doesn't impact the performance over time.  Our infrastructure is also very reliable.  If we have a cable break outside Lowestoft, we would be able to switch terabits from customers that are on the Stockholm/London route over our Aberdeen route and still terminate in London, which is very unique. When a subsea cable breaks it usually takes about 12 to 14 days to repair, if you're lucky.
TR: How do you approach meeting the demand for diverse routes in Western Europe?
PH: Because of the origins of our infrastructure capabilities the quality was dictated by our oil and gas customers.  They demand tri-versity and quad-versity, and we have been delivering that for a decade.  But tri-versity is a new word for carriers, who were building metro rings with two legs in and out.  The hyperscalers then rocked the design for the carriers by talking about four or five entry points, which carriers didn't have in their topology.  But that was nothing new for us.
For example, one year ago, we released our Copenhagen-Amsterdam route. First we collected a lot of knowledge on the infrastructure and the players serving in that area.  We saw that Hamburg has been a critical spot with several outages and significant cable congestion points, and we knew from the market that a new route, avoiding Hamburg, would be very welcome. When we designed it, we worked out where we could find infrastructure with the least amount of other carriers on it. In Denmark all the carriers are with the main dark fiber provider, so we then selected another fiber provider and became the first carrier to light fiber on the COBRA cable, a power subsea cable by Energinet, to reach Amsterdam. Most of the other carriers come into Amsterdam from the east, west, and south, so it was crucial that we entered from the north.  Thus we avoided Hamburg and diversified the whole route, releasing it as a product by itself.  That's how we differentiate ourselves: it's not just the network capacity between PoPs but the specific routes that solve a problem for the market.
TR: What other projects do you have in the works like that, or you can you say?
PH: We only have one path into Stockholm and we are building a route down to Frankfurt, although coronavirus has slowed that down.  But when we build the route, we will apply the same kind of design strategy as we did previously.  We will connect it to Copenhagen first, and then build from Copenhagen to Frankfurt. This is a massive route with a lot of capacity coming in from Russia and the east that stops in Stockholm. Right now everything goes south down to Hamburg, so this route definitely needs some added diversity while maintaining a very attractive latency.
TR: What parts of such projects will you build yourselves, and what parts will you piece together from existing infrastructure?
PH: When we build, we build subsea cables, because that's where we have 20 years experience. Terrestrially, there is so much fiber to choose from.  Additionally, we are very comfortable with overhead fiber, and not many carriers here on using overhead fiber. The only drawback is that we have to explain that, but this is how we build power grids in the Nordics compared to how you build it in US.
TR: How else do you differentiate yourself from more traditional network infrastructure operators?
PH: We are an extremely flexible and fast organization with extensive and unique technical knowledge.  For example, consider our NOC.  A traditional carrier NOC cannot present what we can, because what we must offer is dictated by the standards required by our oil and gas customers. We don't have a level-one support point. All customers have one service level, going directly into second level.  We can do  that  because we don't have volumes of customers, but rather we have customers with volume. Within 30 seconds they can get in direct contact with a trained engineer that can handle their technical problem, fault handle it, and resolve it without having to dispatch support. That is pretty powerful.
TR: Do you foresee expanding your customer base beyond those 'customers with volume' over time, perhaps moving up the network stack?
PH: The hyperscalers are carrying significant more volume than what you have on the carrier side. Our main service is 100Gbps, and we see fewer and fewer requests for 10Gbps. It is an extremely powerful Ciena layer-1 network on top of which we have Ethernet and MPLS, which then serves customers with those specific needs. But higher than that, we don't need to go.  That is the added value that our customers are providing at the IP level to their customers, so that they can sell their services. Our approach is mainly just transport with performance, quality, latency, and diversity.
TR: Are there any plans to build new subsea infrastructure complementing or overbuilding what you have in the North Sea?
PH: After putting the Egersund cable out there, we have everything we need for now. We have a rich fiber count, and I think that we're very well positioned to offer customers fibers on those subsea cables. Obviously the region is quite hot and there are a lot of new projects going on: the English cable from Altibox/Skagenfiber and the Aqua Comms/BULK cable, which we will take a position in to further diversify the area. But we're not looking to stretch the network, such as to Helsinki. Yes, Helsinki is interesting, but it's actually more interesting to add more routes within our strategic area.  Customers are asking for specific routes to complement what they have in place. 
TR: You recently acquired similar offshore communications assets in the Gulf of Mexico.  How does that fit into your plans?
PH: We recently bought this fiber network that had been owned  by BP and operated by Tampnet, so now Tampnet both owns and operates this fiber network.   It allows us to do breakout points from which we can add fiber to a number of other platforms.  From there we can do additional jumps to extend the coverage area. It was definitely not cheap, but I think that it's a very good investment. We bought it from a purely oil and gas perspective, but I can see an interesting new diverse route that has never existed before.  On the terrestrial routes along the coast, the carriers have to deal with hurricanes, tornadoes, and flooding for low ground-level-built data centers.  There is a need for more diversity between the markets of Texas and Florida, and we have had positive initial discussions with some carriers in this region.
TR: Are there other geographies beyond the North Sea and the Gulf of Mexico that Tampnet might find interesting?
PH: Offshore wind energy is a new and important business area for Tampnet, where we currently are providing wind farms in the North Sea with fiber and 4G connectivity – and with regards to wind energy the US North East coast and the Baltic Sea in Europe are interesting areas.  There are a few areas globally with lots of oil and gas activity, such as off the east coast of Brazil, off of the west coast of Africa, outside of Perth, Australia, near Malaysia, and that is outside the east coast of Brazil, and then also in eastern Canada.  We already do business with 90% of all offshore operators, so as the oil and gas industry becomes digitalized we will be happy to move into a new region if it makes sense from a business case and a risk perspective. We already know how do that and we have showed it works in the North Sea and in the Gulf of Mexico.
TR: So what's the biggest challenge you run into in today's environment?
PH: When we started; nobody had ever heard of us. Building up that awareness with thousands of meetings, educating the market about what our network can do has been the biggest challenge.  But we have confirmation that the niche that we were striving for makes sense and it creates value for us, and now we receive business based on that reputation. However, with the pandemic, it has been harder to develop those new relationships.  When I was traveling every second week, going to conferences, and meeting new people, there were so many discussions that would lead to something later down the road. The building of those professional networks has been hurt when it comes to acquiring new customers, and I think everybody feels that during a lockdown. I don't think that anybody will ever again ask whether it is really worth going to a particular conference.  But with the pandemic, there has also been value created through efficiency.  You don't get the spontaneous meetings that might lead to something new, but sometimes you can still get more done.
TR: Thank you for talking with Telecom Ramblings!
If you haven't already, please take our Reader Survey! Just 3 questions to help us better understand who is reading Telecom Ramblings so we can serve you better!
Categories:
Fiber Networks
·
Industry Spotlight
·
Undersea cables