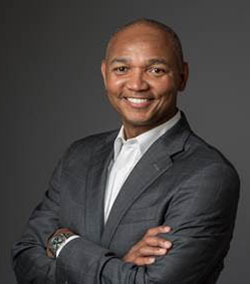 Texas has been one of the more dynamic network infrastructure markets over the last few years and has drawn increasing attention from both national and local operators.  The major DASH cities (Dallas/Ft. Worth, Austin, San Antonio and Houston) form their own regional market and LOGIX Fiber Networks has long been a specialist in serving it.  With us today is newly minted LOGIX CEO Craig Collins, who took the helm at the end of August 2020 and previously held key executive roles at Transit Wireless, Intermedia, XO, and TWC.
TR: What does LOGIX's infrastructure and business look like today?
CC:  We are the largest independent fiber provider in Texas. One of the reasons I joined LOGIX was because of its very dense fiber footprint throughout the DASH markets.  There is tremendous market opportunity within our Texas fiber footprint.  We have 285,000 fiber miles with roughly 3,000 buildings on-net and the opportunity near-net to go out and continue to build.  We have a strong product portfolio and we take care of our customers.  Those are the main tenets of the business.
TR: Where are you investing your resources right now?  Are you expanding outward geographically or adding depth in existing markets?
CC: Texas is our focus. We have three main objectives in the state. One is continuing to sell and penetrate those 3,000 on-net MTUs. There is still plenty of opportunity there. We are also looking to build out in all four of the DASH markets depending upon where the best opportunities are. To do that, we are taking a systematic approach from near-net, to the next 1,500 feet out, and so on as we build within each of those markets.  Lastly, we will build our relationships with Wholesale and Wireless Carriers and educate them about the LOGIX footprint in our metro areas and our long-haul routes.  LOGIX infrastructure is in a unique position to support the Texas business market in multiple ways. 
TR: Do you see any opportunities beyond the DASH markets, such as out in West Texas?
CC: There is some interest, but we manage our capital spend very closely as to where we are going to build.  Of the markets we are already in, such as Dallas, Houston, Austin and San Antonio, there is still so much potential for network growth and investment.  As you are aware, cities in Texas such as Austin are among the top growth cities in the country, so we want to leverage our existing presence and extend our network to support businesses there  Our 2021 will be all about discipline and focus.  While we make our way through the final stages of the pandemic, we can't take our eye off the ball and our core objectives.  We will be focused on supporting our existing customers, building new and lasting relationships, maintaining our network and growing smartly.
TR: Today's LOGIX includes assets acquired in the Alpheus deal.  How do you view M&A in today's market?
CC: M&A is always a potential for companies in this market right now. There will be continued consolidation in some way, shape, or form.  There are no shortages of partnership opportunities coming our way either. We can never rule out the different types of M&A opportunities. We must keep our focus on the opportunity that exists in our current footprint in the short term and continue to penetrate those markets while building out judiciously.
TR: Are there any new technologies you'd like to add to your product set in the near future?
CC: We have a very good product set today.  There are certainly other things that we can bring to bear, such as SD-WAN and managed firewall services. We have those and others on the roadmap and we'll be looking to bring them out in a measured fashion. That will help us increase our ARPU.  The beauty of LOGIX is that the fiber platform is there, the systems are there, and the markets are there.
TR: Do you see opportunities beyond the SMB space?  In the wholesale area perhaps?
CC: Since I joined LOGIX back in September, we have had a strong focus on the retail space.  We did have some channels, agent programs, and wholesale, but we have now started to increase our focus in these areas. We plan to have a very strong focus in the wholesale arena in particular. We have this great network, so why shouldn't we leverage it more to enable others to use it? We want to partner and provide services to those customers, such as the ILEC's, Wireless Providers and cable MSOs.  Clearly as wireless density continues to take hold, we want to stay close to the AT&T's, T -Mobile's, DISH's, and Verizon's of the world to support their tower backhaul and small cell deployments. The wholesale growth arena is a perfect greenfield scenario for LOGIX.
TR: How has COVID-19 affected LOGIX so far?  How have you had to adjust?
CC: There was no playbook for COVID. It was a matter of figuring out how you help people work remotely and how to ensure your employees are safe but also in an environment where they can successfully support customers. We have our employees set up with the necessary equipment and software to be as productive, if not more, from home. From a business perspective, we have really focused on our products like hosted PBX and Business Voice Cloud that help customers that are working remotely.  In addition, we have continued to focus on customer service.  With the most recent news that vaccines are being administered, hopefully within the next couple of quarters we will bring some employees back to the office.  But this has changed the entire model of both who really needs to be in the office and how you need to service your customers.  
TR: What effects have you noticed for those in your SME customer base? 
CC: Clearly, businesses have suffered through this pandemic, and we have seen some impacts on churn in our customer base. We continue to manage that on a daily and a weekly basis. We have put into place different programs to support businesses whose ability to pay has been impacted through that process.  We are now starting to see some more stability in the market and some of those business customers are coming back.  
TR: How have you been reaching new enterprise customers in this market?
CC: For sales, we have had to change our paradigm. Without the ability as a salesperson to walk into a building, knock on doors, and move up and down the hallways, we have really had to become adept at finding new business via selling over the phone and inside salespeople. Another key element has been our partner channel. We work very closely with agents who already have existing relationships with customers. But lately I've starting to hear about more opportunities to get out in front of customers directly again, and I hope that continues.  The enterprise customer base is more stable than the SMB sector, so we need to continue penetrating this segment and going upmarket.
TR: Have the rising bandwidth demands in other parts of the global internet infrastructure spilled over into your network? Have you had to make investments there?
CC: We have not seen a huge uptick in terms of capacity.  It has been somewhat variable, but we have plenty of bandwidth today to handle our requests.  In terms of capital investments in our network, it has been very stable, and we are making sure we're always in the right place from a relative utilization perspective.  This is an area that we constantly evaluate as we see where the market is headed, and the fact that consumption will continue to rise.  
TR: What else do you have planned for LOGIX going forward?
CC: It's really about blocking and tackling. This is a business that has gone through an acquisition and an integration of systems, much of which was completed in the last year.  The next evolution of the business is to grow it, and that comes down to what segments of the market to focus on, and what strategies to deploy to be successful.  We have developed a coherent roadmap to logically pursue the retail and wholesale space and now we just need to go and execute.  
TR: What challenges lie ahead of those plans?  What keeps you up at night?
CC: COVID is a wildcard and we are focused on employee safety and productivity.  COVID is just a new playbook.
TR: Thank you for talking with Telecom Ramblings!
If you haven't already, please take our Reader Survey! Just 3 questions to help us better understand who is reading Telecom Ramblings so we can serve you better!
Categories:
Industry Spotlight
·
Metro fiber