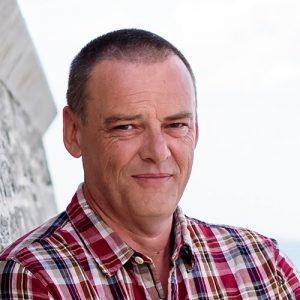 A few weeks ago, Seaborn emerged from a reorganization process with a new unified corporate structure and Partners Group as its majority owner.  With its Seabras-1 infrastructure in place, some new capacity on AMX-1 coming online soon, and a growing IP network capability Seaborn is looking forward to a new phase of growth.  With us today to talk about the company's plans and how the pandemic has affected things this year is co-founder and COO Andy Bax.
TR: How did you get started in the subsea cable business, and how did that lead you to Seaborn?
AB: In the late 90s I was one of the young guys in subsea.  I spent two years in Dubai finishing off the commissioning and then running the FLAG network there.  It was the first real semi-private cable system and the first to have a centralized NOC.  Then I joined Global Crossing when they were just commissioning the first segment on AC-1 and went on to run their global subsea network across 5 continents. I joined Global Marine and helped them get into the turnkey installation business including helping to put together the JV with Huawei to create Huawei Marine. I did some consulting for a while, trying to change the world a bit, including working with the governments in Guyana and Suriname to put together their first-ever cable system, prior to which they survived on a comparatively tiny satellite uplink.  It was in 2010 that I helped co-found Seaborn with Larry and got going on this whole adventure.
TR: So, the last six months or so have been a roller coaster for Seaborn, how did it all shake out?
AB: It's the longest, short six months I've ever known, probably.  A couple of the Seabras-1 companies were put into Chapter 11, while Seaborn was operating those businesses through an arms-length managed service agreement. We had an environment where there were two different companies with one cable system and one brand, so it was always a bit confusing. We've now come out of that process. On the financial side, with the help of our investor, Partners Group, we've lowered the debt load for the company by about 30%, and with the cooperation of our lenders have extended the maturity on the debt by about six years and balanced out the repayments so that they more reflect the predominantly lease market we are in.  So, we are financially much more stable, and a much more resolute and healthy business. Also, as part of that process Seabras purchased Seaborn, so we are just one company now.  It's much simpler now, and we feel much more aligned in terms of growth opportunities moving forward. It already feels like a different entity, and Partners Group is excited about what we're doing moving forward.
TR: Have those organizational changes shifted your operations in any way?
AB: No. Despite being in Chapter 11, which is always a little disruptive and has the potential for mischief by the competition, and despite COVID-19 and all the challenges that has created, we've actually grown over the last six months. We had our best two quarters ever in terms of performance, even though we've had these lockdowns and isolation and we've taken careful safety measures into account for all the members of our team and our partners. We've expanded the network in Brazil into new POPs. We've grown the network, and especially our IP network now. With our partner EdgeUno, we have expanded into Argentina, Chile, Colombia, and Peru, as well as on the US side into Jacksonville and Miami, and soon Atlanta and beyond. Operationally, nothing's changed. We still have our own NOC, still manage our own network with our own engineers in the field. Throughout this whole thing, we've consistently turned up POP to POP services in 24 hours.
TR: What new projects are you working on? Is that cable to Argentina still in the works?
AB: There are two or three different projects we've got plans for right now, but priorities have changed slightly. Argentina is going through their own challenges right now, which Brazil did a few years ago, and there are two new cables there now. Our Argentina cable project is a little different than Seabras-1 in that it's not just us building it but something we would be in partnership with some others. I think we still build it and it probably goes live 2025 or something like that.  But it is another couple of years out from starting as a project at least. There's still a need there for it, but at the end of the day it has to be a demand-driven route.
TR: So where will you be putting your resources in the near term?
AB: Northern Brazil is our priority right now. We have a project there with a fantastic local partner to extend into Recife that's progressing really well. We think we will start construction activities or project activities on that before the end of the year.  It will be a 500km branch from Seabras-1, bringing the submarine cable directly into a data center that we are going to build as well.  That will be a gamechanger for Recife and the states around it. Currently they are served from Fortaleza, which is 400+ kilometers of terrestrial network away.  Recife is an interesting place, not what you'd expect. It's very much tech-focused, and all the leading tech universities in Brazil are there, and then there's Porto Digital. They call it a business park, but that does it an injustice. It's got 300+ companies and 10,000+ employees working there, all tech folks. But they're hitting a glass ceiling because they don't have good international connectivity, and that was the kickoff for this whole project idea.
TR: Beyond Brazil, what opportunities do you see in the region?
AB: Another project we think is really interesting is Central America, connecting the Gulf Coast in the US all the way down to Panama with two landings on the Gulf Coast, in Mexico, and a couple of branches along the way to other places. When you look at all the systems that have been built recently in Latin America, we see that as something like a gap.  It's a piece of infrastructure that would create that last piece of connectivity that brings it all together. Again, it'd be a partner build with a whole bunch of folks involved.  Even though it's regional, it'll look and feel more like a Transatlantic cable in that it would be mostly fiber-pair owners rather than capacity buyers. It's in development, and it's not as close to being ready to go as Recife. We've got a bunch of parties and it will take some time to pull it all together, but we think there's significant interest.
And then we are also looking at a branch off of Sebras-1 to the Caribbean. There have been plenty of attempts to build new Caribbean networks, but if you look at the eastern and central Caribbean, they are kind of undisturbed in terms of competition and long overdue for new regional connectivity. So, whereas the Central American Gulf Coast project is about bandwidth, the Caribbean opportunity is more about connectivity and competition. Rather than creating a bunch of cables to connect the islands together, it's about creating a regional network that gives them a direct connection to the US but more importantly also builds off of that to take on the challenges they've got in terms of working together as a region. It's difficult to justify building a new network in the Caribbean if it's purely based on bandwidth and sales and forecasts.  You have to develop partnerships in the region, country by country offering the benefit of not only international connectivity but also a regional network that the governments can use together whether it be for education or health or data diversity or disaster recovery or whatever it might be, where they're not paying the same price that they pay to get to the US as they are today.
TR: Did you see a surge in demand due to the COVID-19 pandemic? 
AB: In those first few weeks and months many of our existing customers and some new ones were desperate for capacity, and they needed it right then.  We were able to deliver that in 24 hours, in some cases for hundreds of gigs. Our combination of speed and delivery made a big difference for them.  In the first half of the year we turned up customer traffic of just over one and a half terabits. For transatlantic or transpacific that probably doesn't sound like a lot, but for US-Brazil it is.  And if we assume everybody else on the route was doing the same, that's a lot of capacity. And it's not sitting there idle; it's busy.
TR: How much of that surge do you think will stay with us, and how is that affecting your own planning?
AB:  When we look at capacity planning, obviously if you're going to deliver capacity in 24-48 hours, it has to already be there.  So, we're always looking at network inventory.  I think the million-dollar question is that whatever the new world looks like does that surge in demand end up just being pre-bought for the next 12 to 18 months? Is that it? Or does demand keep growing? To be honest, I don't think it's under our control.  I don't think it's under the content owner's control. At the end of the day it's going to be down to people's personal habits. What do they do? Do people keep doing the every week game night on Zoom? Do they still keep doing FaceTime? One thing I think I've noticed is that during this whole period people are reaching out and talking to everybody more than they did before.  It has almost been like a wake-up call for people to reach out and talk to folks more virtually than they would've been necessarily doing before in the "physical" world.  Sure, people want human contact.  But now that they have this, it's not going to just disappear. My personal view is there will be some mixture of the two, so I don't see that traffic demand disappearing entirely.
TR: How has your new IP network been doing?
AB: We launched our IP network just nine months ago, and together with our partner EdgeUno, we have been aggressively expanding our connections. Together, we are now better connected than most of the networks in the region, and we've built a network that is both attractive to local users, ISPs, and corporations, but also to content owners and CDNs that are looking to get into the region with their content. We have a double-sided network, which is we believe different from other traditional IP networks. We are probably seeing as much demand locally as we do internationally for our IP network now.  By the end of this year it will probably be getting close to 50% of our revenue, from a standing start.  Migrating our organization to the next two or three layers up in a relatively short period and bringing that expertise inside is challenging.  We've worked really closely with our partner EdgeUno to not only define what our IP network was going to look like but also in deploying and maintaining it. It's been a great partnership for us and moving forward we foresee doing a lot more together.
TR: What's the biggest challenge ahead for Seaborn in this next phase?
AB: I think the biggest challenge we have is prioritizing. Latin America has always been a place where there are opportunities. There are plenty of ways we can leverage both Seabras-1 and AMX-1, on which we'll be lighting a fiber between Rio and Jacksonville in probably three or four weeks. When we make a commitment, we commit to do something in a certain amount of time. We pride ourselves on delivering what we said we would within that time. We did it with Seabras-1, with the IP network, and with the expansions we've done. So, whether it is Central America next or the Caribbean after that, we'll make sure that A) we can deliver it as a technical solution, and B) we can also deliver organizationally on time and on budget.
TR: Thank you for talking with Telecom Ramblings!
If you haven't already, please take our Reader Survey! Just 3 questions to help us better understand who is reading Telecom Ramblings so we can serve you better!
Categories:
Industry Spotlight
·
Undersea cables