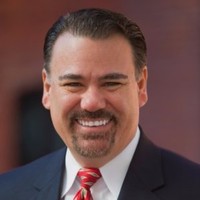 Internet infrastructure is essential to modern society, so there may be a pandemic but the trucks are still rolling, fiber and radios are still being deployed, and bandwidth demands are going nowhere but up.   That means engineering and construction firms like Hylan have been busy despite it all. With us today is Hylan Group CEO Joe Cecin to talk about what they're seeing out there both on their side of things and around the ecosystem.  Joe joined the company in 2018, and took on his current role last year.
TR: Can you tell us about your background and how you got involved with Hylan?
JC: I've been in the telecom industry for over 25 years.  I was actually born and raised in New York City, went to West Point, and served in the Army for about 5 years before going to business school. I then started as an engineer at Bell Atlantic, now Verizon, doing network planning.   After that I was involved in a couple of entrepreneurial ventures before building a company called Cambrian Communications in the DC area during the telecom boom and bust in the late 90's to early 2000's.  In 2003 I joined a boutique investment bank doing middle-market M&A before joining RCN Corporation as COO.  After that I did a small stint in software for a couple of years, but then I came back home to telecom in 2016 but on the other side of the fence at Unitech Global Services, an engineering and construction company out of King of Prussia, PA.   Then in 2018, I got a call from Bill LaPerch, the former CEO of AboveNet and the chairman of the Hylan Group, which was doing several acquisitions to broaden the footprint of the business across the country.  He asked me to come in as COO and help integrate those acquisitions and to grow business development opportunities across the footprint. Then in August of 2019, the Board asked me to take over as CEO and continue the integration and growth efforts at Hylan. What started as a very successful family-owned business based in New York now has operations in the greater New York area, greater Chicago, Phoenix, Los Angeles, Northern California, Utah, and the DC/DelMarVa region. We've got over 600 employees, and the bulk of what we do is build telecom infrastructure — underground and aerial fiber – for all of the who's who in the telecom industry.
TR: So how does the engineering and construction side of the industry differ from the service provider side you started out in?
JC: On the service provider side you have fairly recurring revenue from your customers each month, while on the E&C side, it's all project-based. That doesn't mean it isn't recurring in other senses, since we've had customers like Comcast and Charter for over 20 years. But it's much different from the recurring revenue and churn from the customer acquisition side you see with service providers and that did take some getting used to.
TR: How has the pandemic changed things for Hylan over the past several months?  What's it like out there?
JC: It has been an interesting six, eight, ten weeks. First of all, by the nature of what we do we were declared essential because we're working on critical infrastructure. So, unlike some businesses which were absolutely devastated in the COVID-19 outbreak like retail, airlines, or hospitality, our work has continued. That's not to say it hasn't been impacted. But at the very beginning of the crisis, the conversation with our customers wasn't that we can't work, and they really wanted us to keep working. The backlog and the desire to build out 5G networks has continued unabated.  COVID-19 or not, there was a lot of demand to build fiber and small cell infrastructure. We have seen isolated cases of projects being halted or the customers asking us to wait until things clear up, but fortunately we haven't seen a dramatic negative impact on our business. For the most part, we're continuing business as usual but in the new normal, which means a heavy focus on safety and protection of our workers. Our folks are being very brave going out into New York City in particular, the epicenter of the pandemic, and continuing the essential work of not only keeping the infrastructure up and running but also growing it. About 85% of our workforce cannot work remotely.  They're out in the field, digging the streets, climbing poles or in bucket trucks, splicing, etc. We've been very active in monitoring the health and safety of our people, procuring personal protective equipment and sanitizer and making sure that everybody who is able to work can continue do it safely. The biggest adjustment has been coming up with new work rules and making sure there's frequent and almost over-communication about health and safety, because we want to put our people first and make sure nobody is adversely affected by this.  It has been a big challenge, but I'm really proud of the way the team has been stepping up and working their way through this unprecedented disruption.
TR: What about the rest of the ecosystem you work with?  For instance, how has the process for obtaining permits from municipalities fared?
JC: The permitting process was already challenged prior to COVID-19, and I use challenged as a charitable word.  Everybody has been having issues getting permits on a timely basis from state/local authorities.  I think COVID has made it worse because you have government employees working from home and the inherent inefficiencies associated with that. So we have seen continued and probably worsening issues around permits, and that is one of the larger reasons why some work has slowed down a little bit during this COVID period.
TR: How about the rest of the supply chain?
JC: We have not seen a big supply-chain impact. We have not seen large shortages of fiber and radios so far. We do get a lot of that from our carrier customers who obviously have a lot more purchasing power and typically supply a lot of materials related to the work.  Radios for small cells have had a bit of a supply-chain issue, but that predates COVID.
TR: What types of projects are you working on right now, and has the mix changed over the past few months?
JC: What we do is build and maintain the communications infrastructure, and that has just continued fairly unabated. We haven't seen a big shift in maintenance activity or build activity related to COVID-19, other than the general desire by the carriers to increase their capacity in response to all of the telework that's going on.  I read an article that said Comcast had something like a 33% increase in bandwidth usage during the month of April, which is pretty amazing. I got a text from Verizon, my cell carrier, basically giving me an additional 15Gb of data for the month because they know that we're working remotely. There's no doubt that there's extra demand being put on the infrastructure. But that's what we do every day, so I can't really say that we're doing anything different.
TR: Engineers always try to build in safety margins in case of unexpected events, but we rarely see such an obvious real-world testing of those provisions than the pandemic is putting on today's networks.  How do you think our infrastructure and our industry have stood up to the challenge?
JC: Yeah, talk about having to deal with something completely unexpected and not in anybody's 2020 plan…  There a lot of adjustments being made out there.  I think things have held up reasonably well. You don't hear about widespread network outages, you don't hear about people not getting access to the internet. There'll be some spotty issues here and there, but I think we're faring better than expected in the US. I have heard that in Europe, apparently, the strains on that network are greater than what we're seeing here in the US and that they're struggling a little bit with bandwidth issues, but that's just an anecdote. From what I've seen, we haven't seen a huge adverse impact. I guess we built it pretty well.
TR: Do you have a sense of at what points in the infrastructure the pressure is greatest?
JC: That's probably a better question for a carrier, but I would say it's at the on-ramps, the last mile.  That's where I think you'll see the stressors. Backbones typically have plenty of capacity and can be upgraded relatively more easily.  But I think that if there are weaknesses, we're certainly discovering where they are now.
TR: Do you see service providers having to build out more to meet that demand, or are they mostly using the assets already in place more efficiently?
JC: I think they're trying to optimize their capacity in the ways that carriers can do that: like quality of service levels and other methods. The big thrust is all around the deployment of 5G and fiber, but we were sort of full speed ahead on that build anyway. COVID-19 has simply highlighted the importance of that direction.
TR: On the 5G front, where are we in the buildout process now?  What geographies are we seeing activity in today, and where will be next?
JC: In terms of getting all of the fiber and small cells necessary for full deployment of 5G across the country, we are probably in the second inning of the game. There is just a ton of build ahead of us. Innings one, two, and three are probably around the most densely populated areas, such as New York, Chicago, Los Angeles, and DC Metro area.  If you think about how 5G works, it's about getting that fiber and that antenna closer and closer to the end-user to increase throughput.
TR: What bottlenecks are in the way of really widespread deployment at this point? What is the limiting factor?
JC: It gets back to what we talked about earlier in terms of permitting. You could only build so fast in Manhattan, because there are structural impediments related to permitting. There are also some standards issues regarding handsets and radio standards that a carrier is probably better suited to answer. There are a myriad of different ways that municipalities deal with the deployment of this infrastructure. The FCC tried to level the playing field in late 2018, but that has not really worked very well because the municipalities are fighting it, carriers are suing municipalities, and it's a bit of a mess. I think some of the larger players and entities like the Wireless Infrastructure Association are trying to continue to beat the drum that in order to get the infrastructure deployed, we have to have a level playing field and clear rules of engagement in order to get this network out there more quickly.  But we're trudging through as fast as we can, given the environment.
TR: Are there any technological issues remaining?
JC: Not from my perspective. If there are technology questions or alternatives, the carriers are dealing with that on the design side. From Hylan's perspective, we build where they tell us to build, and we'll hang whatever antenna they tell us to hang. That's our expertise. By the time the work comes to us, the technology issues have already been resolved.
TR: How long do you think the 5G rollout will take?
JC: I think we're talking a three-to-five-year process. But the reality about telecom infrastructure is it's almost an evergreen build environment. If you think about the progression from 2G, 3G, LTE, now 5G, there's going to be a 6G at some point. It's a process of continuous upgrade, increasing capacity and refining coverage to satisfy what seems like an insatiable demand for bandwidth. I don't see that flattening out anytime.
TR: Final thoughts?
JC: COVID-19 aside, I think we're in a great sector. There's a lot of opportunity, a lot of growth, a lot of infrastructure building that's got to take place over the next three to five years. I think Hylan has a great platform to address that. We have nationwide customers and long term relationships, and we're excited about the future. We'd love to get past this pandemic crisis, because I can't wait to get back to full throttle.
TR: Thank you for talking with Telecom Ramblings!
If you haven't already, please take our Reader Survey! Just 3 questions to help us better understand who is reading Telecom Ramblings so we can serve you better!
Categories:
Engineering & Construction
·
Industry Spotlight