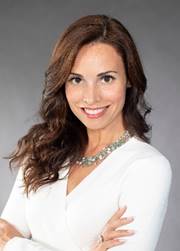 The coronavirus pandemic has caused companies throughout the data center and telecom industries to re-evaluate their 2020 go-to-market plans and quickly pivot their strategies.  Jaymie Scotto & Associates (JSA), a PR and marketing agency exclusively servicing our industry and a longtime friend of Telecom Ramblings, has been busy all throughout this uniquely difficult spring season helping companies shore up their digital presence and increase lead generation. With us today is Jaymie Scotto Cutaia herself, founder and CEO of JSA, to talk about JSA's evolving approach to connecting telecom and internet infrastructure clients with their target audiences in the wake of COVID-19.
TR: What are some of the main challenges faced by JSA's clients with respect to engaging their target audience right now, and how are you helping them address those challenges?
JSC: In these difficult times, with trade shows cancelled, face-to-face meetings postponed and direct sales campaigns frozen so as to be sensitive to the times, our data center and telecom clients are looking to keep their businesses running virtually and sales sustainable. The need for fresh engaged prospects is still critical, perhaps more than ever, without the usual face-to-face connections at key events throughout the year. The question becomes: how do we sensitively approach only those who require our clients' services, without reaching out to a broader audience through traditional sales techniques? 
TR: So you need to generate specific leads virtually without the benefit of the natural filter provided by trade shows and other events narrowing the target list.  How do you do that?
JSC: At JSA, we first strengthen our clients' digital infrastructure. We like to start with an SEO Audit to see what parts of their current website may be helping or hurting when it comes to attracting potential buyers. Are we using the right keywords to help buyers find our clients, in both the front and back-end of their webpages? Is the site following the latest Google and Bing guidelines to be searched optimally? How's our current page load and site security? Are our calls to action clear and trackable? Can we populate detailed profiles from every interested visitor, or are we letting folks just float off our website without any idea who they are and what they might need from us?
Once we have our digital infrastructure in place, we then let in the eyeballs. These days, we use Account-Based Marketing (ABM) tools to identify who is an ideal prospective company, who are the decision-makers and what are their pain points. We then craft content that is personalized to these top buyers within these companies, and deliver our content across multiple channels, including digital advertising. 
TR: Are there any digital advertising platforms that you find most successful for our industry?
JSC: Yes. Lately, we find highly-targeted LinkedIn Form Ads to be very effective in driving relevant leads to our clients' doors. But before we develop the ad, we need to understand who we want responding to the ad, and what are their pain points and buying likelihood. For this, we use intent data to understand what buyers from what companies are ready to buy soon. This information is based on folks' downloading trends, and how many people per company are researching certain keywords, like our clients' products and services. Once we have this list of potential prospects, we then load them into a very tailored LinkedIn Ad, directed towards the buyers and their keywords, to ensure the most successful rate of ad engagement. Once engaged and 'opted in' for hearing more about our clients' services, we can then pass these qualified leads off to our clients' sales teams for further follow-up.  
TR: Tell me more about this data – what is it measuring and why? 
JSC: To maximize the potential of your lead generation campaigns, you need to put in the time to strategize beforehand. Who do you want to target? Why? What are the company's firmographics? Do they match with your ideal customer persona? Who are the key decision makers for this buying decision? What are their social handles? What words do they use when they are sharing their pain points? Are they ready to buy now versus a few months from now?  By leveraging this intel, we can ensure the best keywords are included in the right places within our clients' websites to optimize search engine results. We also use this intel to load up a very targeted call to action via a LinkedIn or other digital ad, designed specifically for them, for their eyes to see, and to encourage more relevant engagement. This means the overall ad spend is less, and the return on that ad spend is much greater.  
TR: And after all that upfront data analysis, what do you see as the top best practice for actually running the digital marketing campaign?
JSC: Most importantly, you have to think of your digital marketing efforts as multi-channel cohesive campaigns. To beat through a crowded competitive environment, your call to action must be seen, read and re-emphasized through at least 6 different channels, before the intended buyer truly begins to believe in your brand power and engage with you. This means if you are planning on just running a digital ad campaign alone, you are not doing your campaign justice.  Instead, consider where your buyers are reading (blogs, journals, social groups) and where your buyers are going (virtual events, webinars, Amazon, etc.) and be sure your consistent messaging and calls to action are there to support you. This is why JSA is a full-service marketing and public relations firm- as it's one clear message through multiple channels, for each campaign. 
TR: Many channels means a lot of content to write, does JSA do that part as well?
JSC: We are writers first here at JSA. If it's not quality content with clear and compelling calls to action for intended buyers, then what's the point in distributing it?  So it must start with a great message- that is in step with the given time- and that begins first with great strategy and analysis. Together, this leads to optimal ROI for our clients' marketing spend.
TR: You mentioned your clients have done a lot of pivoting.  But in the wake of the pandemic outbreak, what new initiatives has JSA itself recently introduced?
JSC: Our latest innovation has been in driving our community to communicate and network through our bi-weekly virtual roundtables. To help local restaurateurs during these difficult times, we also provide the first 100 registrants to our Virtual Roundtable with either a free lunch or a free gift card to a local restaurant of their choice. These meals or gift cards get delivered 30-60 minute before the virtual event, thereby serving as a reminder to login and connect with our panel of industry experts. Our latest series discusses the impact of COVID-19 on our industry and verticals. By providing a timely topic, lunch on JSA, and of course targeted LinkedIn ads promoting registration, we have been able to increase our registration by over 150% as compared to last quarter. This is just one way we are trying to provide meaningful virtual gatherings, discussion and collaboration for our industry during these difficult times- and support local restaurateurs as well. 
TR: Thank you for talking with Telecom Ramblings!  Stay healthy and safe!
If you haven't already, please take our Reader Survey! Just 3 questions to help us better understand who is reading Telecom Ramblings so we can serve you better!
Categories:
Industry Spotlight