Well, as we have all been anticipating for the last five months or so, Zayo will soon no longer be a public company. Today they announced a definitive agreement to be acquired by Digital Colony and EQT.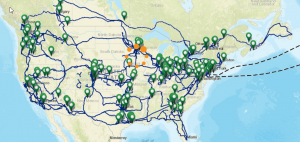 The deal will pay Zayo's shareholders $35 per share, valuing the company at $14.3B. That's about where the rumors had it, but Zayo's stock was still trading about 15% below those levels as of yesterday so I guess the markets had some doubts that it would go down this way.
When Zayo's stock price suffered last year after operational stumbles, the vast difference between private and public valuations of assets like Zayo became impossible to ignore. It became clear that private bidders would emerge simply because they would be happier with the assets and future potential than the public markets will be any time soon.  Thus began a dance that both sides wanted to finish, and so they did.
For EQT, this is the infrastructure fund's biggest move yet into this space. They assembled Segra from the acquisitions of Lumos and Spirit of course, but the company also owns assets like IP Only and GlobalConnect over in Europe. Meanwhile Digital Colony, led by Marc Ganzi and combining the efforts of Digital Bridge and Colony Capital, is no stranger to the space either.  As ownership teams go, these guys definitely know what they're doing.
Now, though, the hard part begins. Zayo still needs to solve the operational issues that have impeded its growth lately. There is definitely discontent to deal with both internally and externally, and it should be interesting to watch how the new owners deal with it. Will they reshape the leadership team in some form?  Will they return to the M&A arena to further complement these assets?  Details are sparse in the announcement, and we have to wait for the deal to actually close anyway (1H 2020 expected), so only time will tell.  Speculation can start now though.
Zayo's assets today span some 130,000+ route miles of fiber connecting some 35,000 on-net locations, with 51 colocation facilities on two continents. The company also posted its fiscal Q3 numbers today, with revenues checking in at $647.2M, which appears to be a pretty good number.  EBITDA tipped the scales at $321.3M.  It'll take more time to delve into the details, but the M&A is the big news anyway.
If you haven't already, please take our Reader Survey! Just 3 questions to help us better understand who is reading Telecom Ramblings so we can serve you better!
Categories:
Fiber Networks
·
Mergers and Acquisitions