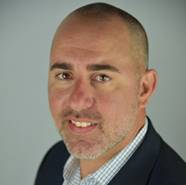 It wasn't so long ago that the US interconnection business was a closed, secretive place.  That changed with the Open-IX initiative, which opened the doors to both European-style internet exchanges and homegrown regional efforts.  So what is Open-IX doing to follow up on that success?  With us today to talk about the organization's plans is newly named Executive Director and industry veteran Robert DeVita. 
TR: How did you get involved with Open-IX and how did you come to take over as Executive Director?
RD:  I started out about four years ago on the marketing committee, and I floated on to the board two years ago. Open-IX was starting to transition and add different certifications to the Open-IX umbrella, and we were looking for more of an outward presence, more of an evangelist.  I was actually part of the research team that went out the market to look for the new Executive Director when it occurred to me that I now had the time to do this myself. So I threw my name in the hat and stepped off the committee.  I was hired by the board of directors to take over the position about a month ago.
TR: The interconnection business has evolved a great deal since Open-IX initially shook things up.  Where does Open-IX fit into the new paradigm?  What is its role now? 
RD:  First I want to give credit to the founders of Open-IX. They really saw what was going on in the industry and recognized the need to help additional exchanges come into the US. I think we've completed the first part of our mission: to enable choices on Internet exchanges at the different major peering hubs around the US. Part of that really helped AMS-IX, DE-CIX, and LINX come into the US. At the same time we have seen the proliferation of community IXs really come to bear on the market. The community as a whole has tried to give itself options for different peering platforms.  I think Open-IX has really helped to usher in that new era of exchanges, and as we looked ahead we asked ourselves what our next goal should be.  We've got two new certifications that we'll be rolling out shortly that we think will help consumers as they go to select different data centers: a Cloud Connect standard, and an Edge Micro standard.  As we try to really transform the organization into an open-standards body, we're getting more and more into consumer-led standards than we were previously. I think these are the first two out of many that will be rolled out over the next 18 to 24 months.
TR:  What is the new Cloud Connectivity standard designed to address?
RD: If you look at the litany of different options for connecting to public hyperscale cloud provider, there are at least three or four different ways to go about it.  I think the largest part just clarifying the different connection options categorizing them into three or four separate buckets. When a customer goes into a data center, they should know the difference between a physical cross-connect hand-off versus using a MegaPort or Packet Fabric service versus using a network provider to get to a hyperscale cloud provider.  There are different business models and different technologies involved in that choice.  We see a providers saying, "Hey, I have a direct connect to hyper-scale providers." But I think there needs to be more clarity around exactly what that can mean.
TR:  How receptive have the various players been to potentially standardizing this?
RD: We've really seen a lot of interest in this particular standard both from data center operators and interconnection companies,  From a data center operator perspective, I think it only helps to educate their customers about what they're getting into and what their options are, especially the folks that offer multiple different ways to connect. We're also seeing a lot of positive feedback from organizations that traditionally have chosen not to work with Open-IX.
TR: What does your Edge/Micro standard address, and how far along are you with it?
RD: There's a lot of chatter in the community right now around micro data centers at the edge. What capabilities these pods or edge micro data centers are going to have has not necessarily been well defined. We are going to put a standard out there that will at least educate consumers on what they're getting into when they choose their Edge/Micro provider. There will be categories on power, backup, interconnect, and the openness to allow networks in. It will be similar to what we see on our data center standard but customized for an Edge/Micro site. It will be not just about hardware but about operations within the facilities. The standards right now are in development, and we hope to have a framework ready for our members in the community to give feedback on in the next 30 days.
TR: Overall, how hard is it to get the data center, cloud and interconnection providers to agree on these subjects? 
RD: From a third party standpoint, we've got to make sure that we get enough input from multiple different entities and that the standard isn't written by one company.  It's really our job to make sure that we get feedback from multiple different vendors, multiple different operators, multiple different consumers of these services to make sure that the standard that will fit the market as a whole and not just one specific provider. We've had very good feedback and participation from the market.  People want to get involved, and it's very important that the community writes the standard and that we simply foster and help organize that community.
TR: Are the various technologies and business models pulling the standards in different directions or are they coalescing naturally?
RD: A lot of it is us acting as the translation engine between those technologies.  Various companies will do things differently, but at the end of the day, this is still a very simple business: space, power, cooling, and interconnect. Whether it's a 200,000 square foot data center or a 100 square foot data center, those are still the main components that go into those types of facilities.
TR: Looking at the longer term, do you foresee the various new technologies on the industry horizon changing the interconnection ecosystem substantially?
RD: I think it's still those same components, and what will change is the technology of how components like power and cooling are delivered. From the space perspective we are seeing spaces get smaller so you can put them out on the edge, but the building blocks themselves remain the same.
TR: What's the biggest hurdle Open-IX faces in achieving these goals?
RD: At this point it is speed to market. We want to get these standards out faster to the market, but we also have to remember that these are community-driven standards, and we need to allow for feedback from the community to get these out. Herding all the different organizations, getting them down to a common theme and a common thread, and being able to deliver a standard to the community for them to give us input on takes time. Some of that's on us to be able to get the frameworks built quicker and get them out for comments faster. Another hurdle is that as a volunteer organization, our people are juggling their fulltime jobs as well volunteering for Open-IX to try to do all this.
TR: After you get these two standards out to the market, what will Open-IX be focusing on next?  What else needs standardization?
RD: One standard that we're still discussing internally is an Internet of Things interconnection standard. How does a smartwatch interact with a refrigerator that interacts with your Wi-Fi in your house? There are just so many connected devices now, how do you standardize interconnection on such a scale? That may be the next hurdle that we're going to try to address for the community. But it just encompasses so much, we have to make sure that we can add value to the community by setting a standard for it.  Therein lies the opportunity, though.
TR: Thank you for talking with Telecom Ramblings!
If you haven't already, please take our Reader Survey! Just 3 questions to help us better understand who is reading Telecom Ramblings so we can serve you better!
Categories:
Datacenter
·
Industry Spotlight
·
Interconnection