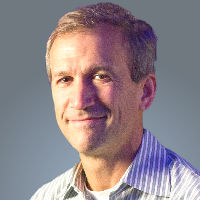 The data center space has been a very dynamic one for a long time now, with both inorganic and organic activity continuing without pause.  One of the newer players to start making national waves has been Digital Bridge's DataBank.   DataBank has been making deals and adding new markets over the last year or two, and seems likely to continue to do so aggressively.  With us today is industry veteran and DataBank CEO Raul K. Martynek, who was here for an industry spotlight back in 2015 during his previous gig.
TR: Digital Bridge overall has been taking a multi-pronged approach to infrastructure.  How do they view the sector?
RM: If you think about touching an icon on your cell phone ask yourself, "What are the three physical pieces of infrastructure that makes that kind of communication happen?" The answer is wireless infrastructure, fiber, and data center. Digital Bridge's focus is around those three sectors. The founders started with cell towers, and have three tower businesses now:  Vertical Bridge in the US, Mexico Tower Partners in Mexico, and Andean Tower Partners in South America. The fourth business that they invested in was a pure small cell DAS company called ExteNet which is the largest privately owned DAS business in the US. They operate fiber-based DAS networks in about 37 US markets. When I joined Digital Bridge at the end of 2015 it was to focus on the final leg of that stool which was data centers.
TR: Digital Bridge then acquired DataBank, of course.  How have things gone since?
RM: When we acquired DataBank about 18 months ago it was a three-market, six-data-center business with operations in Dallas, Kansas City, and Minneapolis. Since then we've expanded to Salt Lake, Cleveland, Pittsburgh, and Baltimore, and we're now building in Atlanta. When complete, we will have 14 data centers in 8 markets.
TR: What kind of markets are you focusing on, and how did you pick the ones you have expanded into?
RM: DataBank today is definitely focused on secondary markets, or edge markets if you prefer.  The logic behind that is if you think about the evolution of companies like Digital Realty, Equinix, CoreSite, CyrusOne, the primary markets were New York, Ashburn, Dallas, Chicago, San Francisco, etc. That is where the initial data center construction began and, by no coincidence, also where the largest internet peering and interconnection points emerged. So for the first 10 years of data center construction, most of the supply went into those markets. What we saw in early '16 was that as the internet continues to evolve and, that isn't going to be sufficient to fulfill the mandate of the cloud and content players. They will need to deploy production workloads closer to population centers, and that means going to the secondary markets. DataBank had purposefully pursued that strategy. While they started in Dallas, which is a primary market, when they looked to expand they didn't want to go to Chicago or Ashburn or San Francisco, and instead decided to go to Kansas City and Minneapolis. We have looked through exactly the same lens for our deals since.
For C7, we really liked the Salt Lake City market from a technology formation perspective as well as population size.  It is close to California geographically, but far away from it from a cost perspective.  When we looked at 365 Data Centers, we were able to select what we felt were the two best markets, and that's how we acquired our Pittsburgh and our Cleveland assets. In the case of Atlanta, it was with a very unique anchor customer, Georgia Tech.  We were able to step into the shoes of a developer who had secured the rights to build a data center in downtown Atlanta, on land owned by Georgia Tech under a 99-year lease.
TR: What markets do you think you will take aim at next, and how will you enter them?
RM: We have a target list of about another ten geographies that are very similar types of markets.  One thing that we're trying to avoid is committing the sins of the bubble era, when people got so excited about this thing called the Internet that they thought they could just plant flags in arbitrary markets and start from zero and be successful.  We don't want to be that speculative when it comes to our investments. Our method to enter a new market is either going to be through an acquisition of an existing business or through some type of kind of anchor customer sale-leaseback arrangement such as what we have in Atlanta with Georgia Tech.
TR: Digital Bridge also owns Vantage Data Centers, how does your relationship with that business work?
RM: All the Digital Bridge companies are operated independently, with their own governance and their own shareholders. But, obviously, because they're all part of the same portfolio or umbrella of businesses, there's a good degree of cooperation and communication between the businesses. Vantage is focused on wholesale and hyperscale, typically dealing with customers that are one megawatt and above. Databank typically deals with customers that are one megawatt and below. They obviously have some smaller customers, and we obviously have some larger customers, but that's a good way to think about the respective focuses. Ultimately, our businesses are very complementary to each other under the Digital Bridge umbrella.
TR: What stage do you think we are at in the migration of content to the edge in the industry as a whole?
RM: I think where we're at is in kind of the early innings of that. The larger players have already started to do it, and we're benefitting from that trend today.  We have a very good customer roster of large top ten cloud and content players that have deployed in some of our markets. But it still has a long way to go, and we think the wave will continue to hit over the next few years.  It will be interesting to see to what extent the adoption of new technologies like autonomous vehicles, robotics, and 5G do towards pushing demand in these markets.  We are optimistic and see some of that demand today, but think that probably the majority of it is still in the future.
TR: You have also been having success with hybrid deployments, how have you approached that?
RM: Our most recent acquisition was Edge Hosting in Baltimore, which was a managed-services business, and it was specifically to accelerate our ability to deliver those types of solutions. What we're seeing in the enterprise space is that organizations are increasingly realizing where public cloud makes sense, where managed-infrastructure or private cloud makes sense, and where colocation makes sense.  They're looking for providers that can help them navigate those three buckets, because over the lifecycle of an application or a dataset, the rationale for what is the most logical place for that dataset or application to be changes. It makes sense to have a provider that can give them visibility into what's happening in each of those silos and leverage a common spend.  Hybrid cloud is kind of like the VOIP of the telecom era.  When VOIP finally got popular, everyone started using that term even though they were still delivering regular voice.  If you look at any of the public data center guys, they are all screaming hybrid cloud. What that means to them is that they brought in Megaport or someone similar to their facilities and now their clients can cross-connect to a public cloud. We want to take that ability much more robustly. We want to help that customer actually manage that workload on public cloud, or possibly to actually help migrate some of his applications and data to our infrastructure in a private cloud arrangement. We think that appeals to all enterprises but especially to mid-size enterprises that have way too much on their plate and can really find a lot of value in dealing with a provider that can intelligently help them in each of those disciplines.  We are big believers in the hybrid approach, and we're excited because this is the year where we're right in the middle of kind of a full roll-out of all those capabilities across the entire DataBank footprint.
TR: What's the biggest challenge DataBank faces moving ahead from here?
RM: For us, it's just execution. We've doubled the size of the business in the last 18 months. When you do that, scaling from a process perspective and maintaining the intimacy that we like to have with our customers gets harder the faster you grow. We know we have really good markets, really good people, and really good solutions. But when you're moving at 100 miles an hour, having that all choreographed and orchestrated is hard. So that's what we focus on as a management team.
TR: How about the industry as a whole?
RM: It's obvious that over the last 24 months there's been a lot of capital coming into the sector almost every day, with new players trying to enter the space. That's something that certainly gives people in the space a little bit of pause, just because we don't want too much capital chasing the space.  But so far people have been very disciplined. Hopefully, investors have learned that lesson won't want to build too much because too much ultimately ends up in a bad result for everyone. But fortunately, in this sector, you have your customers and so as long as you focus on your knitting, you can still grow very well and avoid those types of pitfalls.
TR: As in the rest of internet infrastructure, consolidation in the data center space is an ongoing and seeming inexhaustible theme.  At what stage do you think we are in it?
RM: The fiber sector, the wireless sector, and the cable sector have all been massively consolidated.  But in the data center sector we've really only had, I would say, five years of consolidation so far and I think we're still in the early innings. There are still a lot more multitenant data center operators in North America than there are in those other silos, but I think the same economic logic that drove consolidation there is going to reign here: the need for economies of scale and the continual cycling out of investors. The larger players will continue to expand their geography because it's what makes sense. If you can offer your customers more locations that might be attractive, you can capture more wallet.  And if you think about what new data center companies have been created in the last three years, there really aren't many. It is a common observation that the barrier to entry is low. What's interesting, though, is that when you actually parse that statement and think about the actual implementation, the barriers are quite high. The barriers are easy from a capital and from finding a location in a particular market. But suppose data center company A gets spawned in 2018 and they build a brand new, shiny building in Dallas somewhere. They have a brand new building with no customers. The decision around who you outsource to is so critical, there's no incentive for decision makers to go out on a limb and to try a new provider to save $10 per KW. It's actually a tricky proposition to start a greenfield data center business.  Being an established player and having that referenceable customer base and demonstrable uptime history is so important that it really is a huge barrier for new entrants.
TR: So rather than see new entrants, are we mainly watching new money lining up behind existing infrastructure?
RM: Absolutely. In our sector, the initial companies were backed by what you would call traditional technology savvy private equity investors. Those investors looked for certain types of returns and certain types of hold periods for their investments. Over the last five or six years there's been a rotation of those investors with more real estate investors. It's no mistake that the top five public players are all real estate investment trusts. Those are different types of investors and they look at assets with a much longer prism. They are looking for returns that are, compared to technology investors, much lower but much longer. That's a big change, and I don't think it goes away. People are perceiving data centers as permanent fixtures, kind of like a power plant or substation. Ultimately, that's what is required to underpin the modern internet, which has taken over a lot of the GDP that used to exist in the brick-and-mortar economy.
TR: Thank you for talking with Telecom Ramblings!
If you haven't already, please take our Reader Survey! Just 3 questions to help us better understand who is reading Telecom Ramblings so we can serve you better!
Categories:
Datacenter
·
Industry Spotlight