Following my tour of DE-CIX and zColo at 60 Hudson last month, I was pleased to receive another invitation from Raul Martynek across the Hudson at Net Access.  Last January, Raul took the helm as CEO as the company entered a new phase of growth.  Net Access hasn't always been in the data center business, having come to the sector from the dialup ISP world back in the 1990s.  
Net Access has been busy with a big expansion project in Parsippany, NJ, where they've been building a new data center from the ground up next to their original one.  On my tour of both their existing facility and the one they're about to finish off, I had the opportunity to get a few photos and have a little Q&A with with the CEO:
TR: You've been busy with a major expansion project here in Parsippany.  How is it going?  When will it be done?
RM: The Parsippany II expansion project is progressing very well and we are entering the final phases.  We broke ground on the foundation at the end of 2013, but were delayed by almost three months due to the harsh winter.  The new building is a two story, 70,000 sq. ft. steel and block structure, with two fully independent power and generation plants.  We have already leased space to our first customer and have scheduled their move in date for early March.
TR: Are there more expansions on the drawing board?  If so, where? 
RM: Not in the Northern New Jersey market.  The expansion gives us about 1,400 additional cabinets of capacity, so we obviously have adequate inventory in this area for now.  For 2015, we are looking at establishing a secondary market location a significant distance away from our three NJ data centers to provide a credible disaster recovery and 2nd managed hosting site.  We have not yet selected a final market but are actively looking in places like Columbus, Chicago, Dallas/Austin, Denver and Phoenix.
TR: The chimney systems on the cabinets in your current facility are a design I haven't really seen before.  How does it work, and what benefits does it bring?
RM: Correct, they are not common but we see huge value for our customers in the design.  In a nutshell we have inverted the raised floor found in a typical data center and put it on the ceiling. This design makes the entire data center floor the "cold aisle" and plenum above the data center the "hot aisle".  All the hot air generated by client workloads are extracted from the cabinets through the chimneys into the ceiling plenum, pulled over to a cooling wall, cooled to 72 degrees, and pushed back into the data center.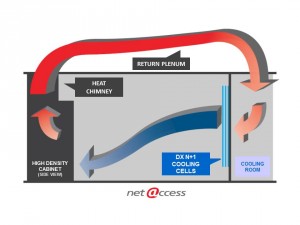 This means we can deliver high density (20kW+) anywhere on the data center floor- to any cabinet, at any time.  We don't have hot aisle/cold aisles, so our clients can work comfortably anywhere in the data center and also not worry about how to stage their equipment as they grow; all while allowing us to more efficiently utilize all of the data center floor space. There is a consistent temperature throughout the entire data center, with no need for spot cooling.  And there is no raised floor.  Our customers love it.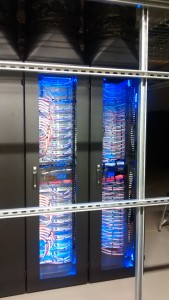 TR: In addition to colocation and more traditional data center services, you are building your own cloud portfolio.  When will that be ready?
RM: Net Access already had a pretty robust array of compute, storage and delivery platforms in place when I started with the company in January of last year. Since then we have been focusing on building a layer of automation, control and configuration that integrates those silos and allows us to extend that into our customers' colocation environments so that they can ingest cloud and managed hosting as they need it.  We call it internally "FlexColo" and believe this type of solution will increasingly be sought by enterprise customers, since managing workloads on separate platforms, or with separate providers, is more cumbersome and expensive.
TR: How will your public cloud differ from the likes of Amazon AWS and other large providers?
RM: We don't expect to compete with AWS, Azure or Google on scale or breath of features, which would just be suicidal for a company of our size and resources.  But, we do feel we can combine compelling high-performance bare-metal cloud and private cloud with colocation to provide solutions meeting the needs of customers concerned with issues like security, compliance and "data gravity".  Our solution will also be attractive to anyone who needs colocation as a component of their IT strategy, but want to migrate to cloud and managed services on their terms and timeline.
TR: Have you been expanding your workforce significantly to enter this new line of business?
RM: Not huge, but we have been building a team of software engineers who understand infrastructure and brought in a CTO from the hosting space last year, someone I worked with at Voxel.  Given the plethora of open source tools and frameworks available today, we believe a relatively small, but clued, group of developers can create some truly interesting capabilities that leverage our existing colocation and cloud platforms.  We expect to rollout the first version of our "FlexPlatform", as we're calling it, by the end of Q2.
TR: Toward what segment of the market will you be targeting your cloud services?
RM: Our existing customer base is more enterprise than "Internet facing" so we will be focusing our efforts initially on that segment of the marketplace.  We see a lot of opportunities to improve how those users currently use infrastructure and colocation and increase performance, visibility and cost-effectiveness through our integrated approach.
TR: What is the revenue balance between colocation and managed/cloud services at Net Access?
RM: For 2014 we were about 65% colocation and 35% network and managed services.  We're less concerned with the actual percentages as we are with knowing that we are meeting all the colo/cloud needs of our existing and new customers.  In that regard, we expect both to grow nicely in 2015 as we complete the build out of Parsippany II and bring our FlexPlatform online.
TR: Thank you for the tour and the conversation!
If you haven't already, please take our Reader Survey! Just 3 questions to help us better understand who is reading Telecom Ramblings so we can serve you better!
Categories:
Cloud Computing
·
Datacenter
·
Industry Spotlight