Investors may finally get a chance to buy into African fiber infrastructure directly next year. Econet, which is the parent company for the pan-African network operator Liquid Telecom, is said to be preparing for an IPO over on the London Stock Exchange.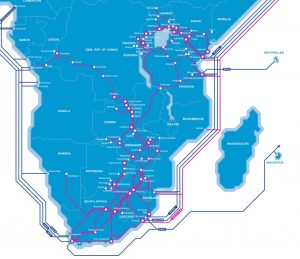 The plans under discussion would raise something in the $1B range, valuing the company itself at around $8B. Earlier this month, Liquid raised $180M as part of a plan to refinance its term loans. The funds from such an IPO would become available for additional acquisitions and organic expansion.
Last year Liquid bought NeoTel, adding further to its infrastructure in South America. In addition to Liquid, Econet owns a Zimbabwean mobile operator. With the change of regime in Zimbabwe after so many years, perhaps the company is looking ahead toward renewed potential international investment in the region.
Liquid's infrastructure stretches all the way along the east coast of Africa, from Somalia down to CapeTown (with the exception of most of Mozambique), and now reaches across to the west coast through Kinshasa.
Categories:
Fiber Networks
·
Financials