Telia Carrier continued its organic expansion in North America today up in the Pacific Northwest.  The international arm of Telia has added two new PoPs in the Portland, Oregon metro area.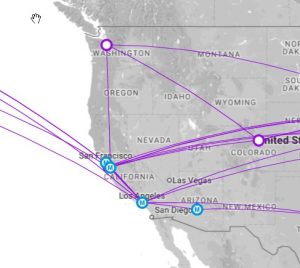 For a global backbone that is at or near the top of the Dyn "Baker's Dozen" report these days, it's a bit surprising that they've done so little in the area until now -- of course they do have a substantial presence further south in California.  But with new submarine cables to Asia landing (e.g. NCP) nearby, the time was apparently ripe to add diversity further north and enter a new market at the same time.
One of the PoPs is in downtown Portland in the Pittock building carrier hotel and the other is out in Hillsboro within EdgeConneX's facility and nearby to everyone else on that campus.  Hillsboro has been the site of quite a bit of new colocation construction in recent years, both for the pure colo guys and the webscale guys.
Telia's network growth continues to be entirely of the organic variety, and they've had a fair amount of US longhaul fiber since the bubble days.  They've been supplementing that lately with some dark fiber leases, but in this case they are starting off with leased transport for the longhaul part.  They have picked up a metro dark fiber ring between Hillsboro and downtown though
Categories:
Internet Backbones