It may have been the holidays, but GTT certainly didn't waste any time when it came to finishing off its purchase of Hibernia Networks.  Yesterday, exactly two months since the date of the announcement, they announced its closing.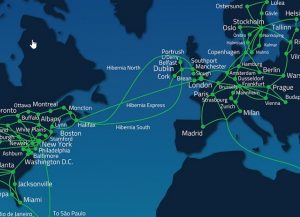 The deal brings Hibernia's fiber network into GTT's asset portfolio, anchored of course by the company's transatlantic cable systems.  Those systems originated back in the bubble, but were recently supplemented by the 2015 launch of the ultra-low-latency Hibernia Express cable, which was the first new transatlantic cable built in over a decade.  Hibernia also built out some new fiber network on Ireland, and had assembled a pretty extensive dark fiber IRU-based terrestrial network on both sides of the Atlantic.  Along with those assets, the company had developed substantial business in the financial and media verticals.  It's all quite complementary to GTT's global IP/Ethernet backbone and cloud-connectivity/managed-services business, overlapping in geography but adding new assets and customer types.
According to filings, in the first 9 months of 2017, Hibernia pulled in some $138.7M in revenue on which it generated EBITDA of $49.1M and earned a profit of $11.9M.  They paid $515M in cash and $75M in stock to make it happen, which works out to a pre-synergy multiple of around 9.  They expect to generate enough synergies to bring that multiple down to the 7 range in about three quarters of work.
GTT has until now operated its business off of wavelength IRUs and leased connectivity.  With the addition of fiber to its diet, the company will find it easier to scale the costs associated with its rapidly growing revenue totals.  Five quarters ago, GTT passed its original target of $400M in revenue and $100M in EBITDA annually, and took aim at the $1B annual revenue mark.   The Hibernia deal gets them up to $700M or so, and I'm sure there will be more to come.  Whether it will be on the fiber side or the managed services side, however, is unclear.  It will probably depend more on opportunity than design.
If you haven't already, please take our Reader Survey! Just 3 questions to help us better understand who is reading Telecom Ramblings so we can serve you better!
Categories:
Fiber Networks
·
Mergers and Acquisitions
·
Undersea cables