Zayo posted its fiscal Q3 earnings today, with the biggest feature being the effects of the acquired Allstream assets in Canada.  Meanwhile, they also revealed a bit more color on their latest move down on the Texas front.  First things first though, so here are a few of Zayo's numbers in some context:
$ in millions
Fiscal
Q3/15
Fiscal
Q4/15
Fiscal
Q1/16
Fiscal
Q2/16
Fiscal
Q3/16
 – Dark Fiber
133.5
135.3
135.0
137.7
144.3
 – Network Connectivity
163.0
163.0
167.0
168.7
172.5
 – Colo & Cloud
38.5
57.6
58.3
58.5
60.3
 – Other+Canada
5.7
6.0
6.5
4.7
100.9
Total Revenue
340.7
361.9
366.8
369.6
478.0
Adjusted EBITDA
199.0
210.9
215.4
218.9
242.8
Adj. EBITDA Margin
58.4%
58.3%
 58.7%
59.2%
50.8%
Capex
130.1
155.5
159.2
172.4
185.1
Buildings on-net
17,479
17,973
18,528
19,341
23,418
Quarterly revenues are closing in on the $500M mark, so it won't be long before the annualized run-rate breaks $2B.  With the Viatel deal closing in the middle of last quarter and the Allstream deal in the middle of January, it's particularly difficult this time to tell the organic from the inorganic.  But for now, it looks like all the Allstream revenue has been put in the Other bucket, perhaps to be redistributed over time as Zayo integrates that business and rolls out its plans for addressing the Canadian marketplace.  Those revenues were lower margin of course, and that brought down EBITDA margins.  And it also brought along a few thousand on-net buildings to boost Zayo's numbers in that regard.  Capex went up some as well, but not as dramatically, as Allstream wasn't spending that much.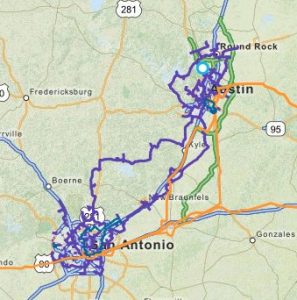 Meanwhile, Zayo made good on its recent promise to disclose more about its largest expansion projects with some more data on the new FTT buildout in Austin and San Antonio.  The project, which will initially add more than 700 route miles and hook up more than 300 towers, will require some $75M in capex.  When Zayo announced it a few weeks ago, they hadn't put it up on their network map yet, but they have now as you can see from the snapshot to the left.
Is the last DASH market of Houston next on the list?  Could be, but I'm actually betting that the next big market region that Zayo would really like to find a FTT anchor customer or M&A target is over in Florida.
As for market expectations for this quarters' earnings numbers, I'm not sure anyone was watching the EPS needle too closely on this one as there are too many balls in the air.  The question is what they think of Zayo's fearlessly aggressive and open stance toward the whole infrastructure sector.
If you haven't already, please take our Reader Survey! Just 3 questions to help us better understand who is reading Telecom Ramblings so we can serve you better!
Categories:
Fiber Networks
·
Financials