Zayo reported its Fiscal Q1 earnings this morning, but in the process has revealed the pending acquisition of Viatel.  While the PR isn't out yet (now it is), the acquisition is detailed in Zayo's earnings investor presentation on page 18.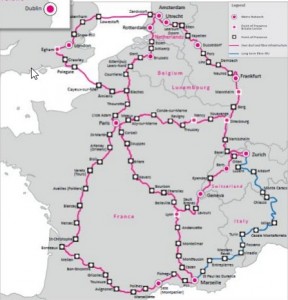 The price tag will be approximately €95M, with a post-synergy multiple of 10.5x EBITDA.  For that price, Zayo picks up a European intercity fiber and conduit footprint that spans most of France as well as the usual loops connecting London, Amsterdam, and Frankfurt, two subsea crossings of the English Channel, and a key route through the Swiss Alps.  They also get approximately 900km of metro fiber across 14 markets.  Viatel's assets have been looking for a permanent home since the dot com bust.  Digiweb had bought the assets two years ago, and had begun investing some resources in them along with their own Irish reach, but apparently decided to flip it instead.  It's not clear yet if any of the Irish assets are part of the deal, we will see. [EDIT: no, Digiweb will retain the Irish business]
I had been watching for Viatel's sale for a few months, as readers would know, and had pegged Viatel as a good fit and likely target for Zayo earlier than that.  As an underdeveloped, infrastructure-heavy asset, it fits their M&A profile almost perfectly and significantly advances their European invasion.  Zayo expects to close the deal by the end of the year.
Oh, and as for earnings, here are the company's numbers in some context:
$ in millions
Fiscal
Q1/15
Fiscal
Q2/15
Fiscal
Q3/15
Fiscal
Q4/15
Fiscal
Q1/16
 – Physical Infrastructure
149.6
152.7
164.3
183.8
183.7
 – Cloud & Connectivity
156.1
157.4
163.0
172.1
176.6
 – Other Services
6.1
5.4
5.7
5.0
6.5
Total Revenue
320.6
323.9
340.7
361.9
366.8
Adjusted EBITDA
183.3
189.7
199.0
210.9
215.4
Adj. EBITDA Margin
57.1%
58.6%
58.4%
58.3%
 58.7%
Capex
115.3
129.5
130.1
155.5
159.2
Buildings on-net
16,151
16,712
17,479
17,973
18,528
Physical Infrastructure had a slower than usual quarter, which held down the overall numbers a bit and kept Zayo from matching analyst revenue projections.  I'll have to listen in on the call to hear what's going on with that.  Adjusted EBITDA margin stayed where it should be, as did capex, which saw 555 buildings added to the network.  Zayo is also busy adding substantial intercity fiber at the moment.
Zayo announced a stock buyback plan intended to mitigate the volatility that could follow the coming waiver of stockholder restrictions next week, when some of its longtime investors will be free to cash out a bit.  In addition, they announced organizational changes and yet another new reporting structure as they continue to fine tune the evolving business.  Instead of Zayo Physical Infrastructure and Zayo Cloud Connectivity, next quarter there will be Dark Fiber Solutions, Network Connectivity Services, and Colocation and Cloud Infrastructure.  Multiple executive changes were also in the wind, with David Howson, Stephanie Copeland, and Scott Beer all moving on to other things.
If you haven't already, please take our Reader Survey! Just 3 questions to help us better understand who is reading Telecom Ramblings so we can serve you better!
Categories:
Fiber Networks
·
Financials
·
Metro fiber