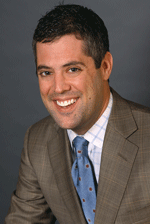 I'm not the only one out there who lives on a steady daily diet of the happenings in the telecom and internet infrastructure universe.  Today we have a conversation with Colby Synesael, Senior Equity Research Analyst at Cowen & Company.  He has been covering the sector in great depth for the past decade, focusing on wireless, towers, competitive telco, data centers,  and CDNs/hosting.  His team covers some 24 of the key players in the industry, and he himself has become one of the most respected independent voices out there.
TR: Why focus on communications infrastructure?  What draws you to this sector?
CS: Communications Infrastructure (comm. infra.) is in my view still a fairly new concept for both industry participants and their investors (both public and private). It's not to say that people don't understand the various components which I'd argue include towers, data centers, fiber, and small cell/DAS, but that we haven't thought of them as one group. Part of this is that we got here by accident where each group was simply solving for an issue that they saw and it's only in retrospect that we've realized each of these companies were tackling the same issue which broadly is the need for more bandwidth, and in doing so have established business models that are actually very similar to one another and in many cases more similar with the real-estate industry than the telecom industry.  What draws me is that the group holistically represents a new way of investing in telecom which benefits from the strong growth drivers in telco/tech and the financial discipline inherent in real-estate.
TR: There has been so much M&A in the sector in the past 10 years, do you think there is still much more to come? 
CS: Each of the companies in the Comm. Infra. sub-sectors spend a large amount of upfront capex to build their infrastructure however require little operational costs to run it. This provides significant scale advantages which by itself makes consolidation very attractive however adding to the argument is that many of their biggest customers need these services in multiple locations. As a result, by making acquisitions they are able to both expand their geographical presence and in some cases product set which makes them of more value to their customer base. For these same reasons I would expect more acquisitions to occur although the data center sector remains the most fragmented of those groups and is likely to be where the majority of new deals continue to happen. Also within the wireless space we, like many others, subscribe to the view that we'll see a few of these companies merge with cable over time and I think lead to some interesting combinations in the next few years.
TR: You recently suggested Comcast's move into the large enterprise space might lead to an acquisition of Level 3.  Why wait?  And would the same motivations apply to other cable operators?

CS: Comcast and really the cable sector broadly have done a terrific job for many years targeting the SMB space and are still seeing >20% growth. Our sense has been that this is simply the beginning of a trend and that overtime they will continue to move further up the stack. However for Comcast (or any other cable company) to cover the mid/large enterprise they will need to have three things including a 1) broader geographical presence, 2) a more sophisticated product set, and 3) a regionally distributed sales force. The announcement by Comcast to target the F1000 simply validates our view that they want to move up the stack whereas the way in which they plan on doing it (via partnership with other cable co's) represents a cost effective way to better understand the market but in our view is not a LT plan (the same can be said for Comcast's MVNO trial with Verizon). We think Level 3 is the most ideal asset for targeting the F1000 although there are other fiber assets out there that could help too.
TR: What other trends in M&A in the sector do you think we should be keeping an eye on?
CS: Within Comm. Infra. the deals that we've found the most interesting this year are those that have been interdisciplinary. For example Zayo's acquisition of Latisys, or Crown's acquisition of Sunesys, or even Digital's acquisition of telx. In each case the acquirer bought an asset that is not representative of their core biz but rather an adjacency yet still falls under what we consider the comm. infra. umbrella. I can't speculate on deals that haven't occurred but I'd expect to see other deals like this going forward. As part of this, another M&A theme that we're seeing is the opportunity for the publicly traded comm. infra. REIT names to acquire public or private c-corp. names that inherently have lower multiples (than they otherwise would if they too were a REIT) which is creating arbitrage opportunities and helping to make deals immediately accretive.
TR: Where do you see the strongest organic growth opportunities right now? Which areas do you see losing momentum?
CS: The data center space has been the hottest sub-sector we cover this year certainly if you were to look at their stocks. This is being driven largely by the adoption of the "cloud" which primarily includes the deployment of infrastructure by the cloud providers themselves. At the same time enterprise adoption both as a result of cloud computing and I think a broader appreciation that it is more economical/efficient not to build your own facility is a trend that when we look back on 2015 I think we'll see marked an inflection in the market. Also, while there have always been concerns about the barriers of entry that exist in this space, because the cost to build a facility is so high (~$1K/sq. ft.) it has been hard for new entrants to secure attractive capital while at the same time as I mentioned earlier, customers of said services are aligning themselves with the providers that have the most scale which also favors the bigger providers.
TR: How do you think the rise of cloud computing has affected the underlying communications infrastructure sector?  Has it shifted the business model, or is it just a part of the growing background of traffic growth?
CS: Cloud is a very broad term but if we take it to simply mean computing/storing information somewhere other than where the user is then I think it better aligns with the scope of what is happening. This in essence is the driver of growth for all comm. infra. companies as well as a whole host of other companies that go beyond my coverage. This thematic tailwind is likely to play out for many years and considering the recurring revenue nature of comm. infra. business models should lead to steady growth. I think the shift in the business model that's occurring is some of the decisions players are making to try and expand ways in which they play it or said differently how they expand their TAM opportunity which speaks to the interdisciplinary deals that have occurred (we argue this is also happening in other areas of telecom services including Verizon's acquisition of AOL which is meant to help them capture growing demand for OTT).
TR: What do you think the role of REITs in the sector will be going forward?  Is this a fad, or might it reflect a growing understanding that a long term tenancy view is the right way to view this sort of infrastructure?
CS: The growing role of REITs is supportive of our view that many of these comm. infra. companies actually have aspects of their businesses that are more similar with the real-estate industry than the telecom industry. In this case you should think of the word infrastructure as being synonymous with property (i.e. tower, facility, fiber, node, etc.). To your point, the comm. infra. companies all have multi-year leases, increasingly a standardized escalator, a large fixed cost structure and thus high contribution margins, and a low level of maintenance capex, not to mention in many cases blue-chip customers akin to tenants of Class A buildings. As this concept has evolved it's expanded the potential investor pool for these stocks to include traditional REIT investors but has also pushed people like myself to increasingly focus on IRR/ROIC opposed to just what's happening with the P&L when assigning value. So no I don't think this is a fad.
TR: Do you think today's valuations for communications infrastructure now reflect the underlying value accurately? 
CN: Conceptually thinking about historically telecom stocks as REITs is not a trivial feat and takes time for both traditional REIT and telecom investors to change. As such, when you look at many of the comm. infra. names we cover relative to the broader REIT industry they in many cases still trade at discounts relative to their FFO growth and dividend yields. We argue though that this is because we are simply in a transitional process that will simply take time which I'd point out has also been the case with other REIT sub-sectors such as hotels when they first made the jump, but over time they too began to trade more in-line with the broader market. Also, as REITs we need to be more sensitive to interest rates which as everyone knows are expected to go up, but that then requires a better understanding of whether these various names are cyclical or defensive stories which I'll save for another discussion.
TR: Opponents of the new net neutrality regime and the application of Title II say that investment in infrastructure will be impacted.  From your vantage point, do you see that happening on the ground?

CN: I don't believe anyone on either side disagrees with the basic concepts of net neutrality but rather the way in which the FCC chose to enforce it (i.e. Title II) which is really a result of the antiquated rules they have to work from. That said, what Title II does in the eyes of the carries that are against it is it opens up Pandora's Box. It's this "unknown" factor that they argue will potentially impact the amount to which they will spend however the reality is that if bandwidth keeps growing somebody is going to have to buildout the necessary infrastructure to support it and if these various carriers choose not to then somebody else will. This however as you know is going to be fought in court and until we have a better appreciation which way the courts decide, debating this in my view is premature.
TR: Thank you for talking with Telecom Ramblings!
If you haven't already, please take our Reader Survey! Just 3 questions to help us better understand who is reading Telecom Ramblings so we can serve you better!
Categories:
Content Distribution
·
Datacenter
·
Fiber Networks
·
Industry Spotlight
·
Wireless