If anyone thought Crown Castle's purchase of 24/7 MidAtlantic last autumn was a one time thing, they were proven wrong this morning.  The tower operator has struck again, and this time it has bought a whole lot more metro dark fiber by buying Sunesys.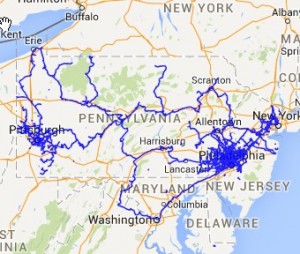 Crown Castle has entered into an agreement with Quanta Services to purchase the fiber builder and operator.  Sunesys operates some 10,000 route miles of dark fiber in markets around the country, major and minor.  Its main markets have been Philadelphia, Los Angeles, Silicon Valley, northern New Jersey, Atlanta, and Chicago, and they've done some E-Rate deals in smaller towns here and there around the country too.  But in terms of raw infrastructure, it's Pennsylvania and New Jersey where they've done the most digging.
Crown Castle will be using the fiber infrastructure of Sunesys to further its position in small cell deployment, in addition to the obvious motive of controlling the connectivity to its extensive tower portfolio.  In particular, they already see some 3,500 small cell opportunities along Sunesys's fiber routes.  They are already pretty familiar with those routes, as Sunesys fiber already hooks up a fair number of their towers, especially around Philadelphia.
The price tag Crown Castle is paying is $1B, which makes this a substantial deal in the fiber world.  Quanta's  Fiber-Optic Licensing revenues were $168M in 2014, and although I can't be certain there is a perfect correspondence between that category and the assets/business being purchased in this transaction it's probably pretty close.   The deal is expected to close by the end of this year, and Crown Castle expects to get $80-85M in gross margin from the assets in the first year.
Quanta sold off the rest of its telecom services business to Dycom a few years ago.   I wondered at the time whether Sunesys might be next, and two and a half years later the other shoe finally has dropped.
As for Crown Castle, two fiber acquisitions in 8 months begs the question of what else they might be in the market for.  The tower business has been an awesome one, and the multiples that business gets means substantial buying power.  They operate as a REIT, but Windstream's move to create a network REIT shows that owning dark fiber fits just fine in that world.
If you haven't already, please take our Reader Survey! Just 3 questions to help us better understand who is reading Telecom Ramblings so we can serve you better!
Categories:
Mergers and Acquisitions
·
Metro fiber