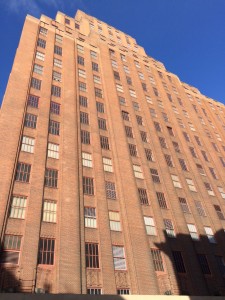 Last week I had the rare pleasure of an in-person visit at 60 Hudson on New York City. Frank Orlowski, the Chief Marketing Officer of DE-CIX, and the always helpful folks at Zayo's zColo division, where DE-CIX has its cage, offered me a tour. And since I am once again based in the area I was actually able to take them up on it. Despite the fact that I write about this stuff every day, I have rarely had a chance to see any of it in person. In fact the only other data center I've seen the inside of was at Metro Connect this past March in Miami, where Zayo had offered a group tour.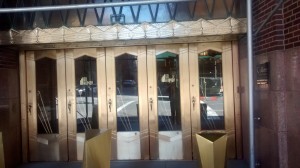 But 60 Hudson is another matter, considering its lofty position in the world of internet infrastructure. The lower part building itself was largely behind scaffolding, but behind the golden doors I was surprised by the interior.  Yes, 60 Hudson has its own fully decked-out, 25-foot-tall Christmas tree, because no uber-connected building is complete without one at this time of year.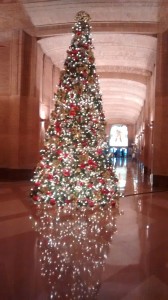 DE-CIX formally kicked off its US entry just over a year ago, looking to reproduce their success over in Frankfurt.  According to Frank, "NYC is a fractured market, it can truly benefit from the more neutral IX model."  In just over a year since launching, they have put together an internet exchange fabric that spans 111 access points across seven facilities in Manhattan and has about 50 networks either connected or soon to be. Traffic flowing across the exchange has now passed the 10Gbps mark, gaining solid momentum but of course with a long ramp ahead before it approaches the huge levels seen over in their core markets.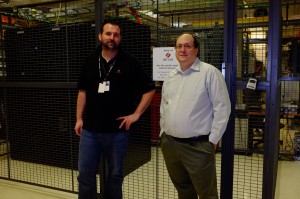 What surprised me the most is just how little space it takes to run such infrastructure. DE-CIX's equipment at 60 Hudson is quite compact, fitting easily into the cage behind Frank and I in the picture to the left, with plenty of room for growth.  They have similar cages in each of those other locations around the city, all linked together via dark fiber.
I asked Frank about the differences in operating costs for an internet exchange in New York as opposed to DE-CIX's home market of Frankfurt.  "Overall cost in NYC is higher – but then again, everything in New York City is more expensive! Port costs and the cost of power are lower in NYC. Cross connects are more expensive."
As to what DE-CIX has in store for 2015: "More networks joining the exchange. More locations/acess points to make a stronger exchange. And more active engagement in the NYC community."
A big thanks to Frank Orlowski for the invitation and the tour, and to the folks at Zayo for helping out and giving me a look into their Meet-Me room there as well!
If you haven't already, please take our Reader Survey! Just 3 questions to help us better understand who is reading Telecom Ramblings so we can serve you better!
Categories:
Datacenter
·
Industry Spotlight