This Industry Viewpoint was authored by Gal Ofel, Head of Software Solution Product Line Management at Telco Systems
Each generation of new communications infrastructure and networking technology brings with it the promise of increased bandwidth and lower service delivery and network management costs. Network Function Virtualization (NFV) technology is a clear example of this.
For telecommunications service providers, NFV also represents a great opportunity to offer new readily-available and in-demand services. Today, more than ever, service providers are struggling to develop new sources of revenue. NFV holds the potential to enable service providers to offer new cloud-based services and generate important new revenue streams.
However, as with all new technologies, most service providers consider NFV a long term project. Service provider executives consider the capital investment and technical complexity. Take, for example, the network architecture – usually migrating existing services to a new technology or infrastructure requires changes in the service provider's network topology. Another example is Virtualizing IMS. This not only requires changing the network, but also poses uncertainty when replacing dedicated hardware with standard hardware and software. The initial investment could be high and the return-on-investment might only be achieved in a number of years.
However, with NFV, this is not really the case as redesigning the network is not required. NFV services do not require redesigning the network and enable new revenue generating opportunities to be capitalized on in a shorter, less risky period.
Start Virtualizing New Services
For service providers, due to increased competition from all directions, voice, messaging and even data services have been for the most part turned into commodities with very low profit margins.
However, Business Ethernet customers, such as enterprises and SMBs, are still a profitable customer segment with higher than average ARPUs. Enterprise customers tend to be aware of their alternatives, while having a strong demand for quality and ongoing service requirement changes.
By leveraging NFV technologies, a service provider can offer its Business Ethernet customers a full range of new cloud-based services and applications. NFV technologies enables business network services, connectivity and IT infrastructure to be available on-demand as-a-service directly from the carrier network.
Consider the example of an enterprise that expands its business and opens a new branch in a new location. The IT department will need to acquire, install and configure the following:
Firewall
VPN to other offices
Hybrid cloud connectivity: public cloud direct connect, VPN, cache
User, device and application-aware quality-of-service
VoIP and PBX support and connectivity
With NFV technologies, these services as well as many others can be offered to business customers as-a-service without the service provider or the business customer needing to redesign the network or replacing core components.
Divide and Conquer
Service providers can earn a quicker return-on-investment with a step-by-step approach. Keeping the rollout of NFV technologies simple and not making changes to the network at the beginning of the process is the best approach. For instance, new cloud services, such as firewall and VoIP at the network edge, can be made easy.
At the same time, focus should be placed on populated geographic areas where the majority of the business customers are located. Accordingly, NFV edge devices should be placed where the service provider can upsell to existing business customers. Equally as important, existing hardware should not be immediately replaced.
Finally, NFV devices should be managed with centralized orchestration. Managing devices one by one, just as a customer representative manages clients, is a good practice.
Stickier Business Customers
New revenue streams are not the only upside to NFV. Business customers will remain loyal to the service provider providing NFV services because:
It's easy – cloud services are available on-demand and can be packaged with other communications services already being utilized.
It's seamless – expanding the rollout of new or additional communications and networking services across the enterprise to support business growth is as easy as copy/paste.
On-demand and auto-scaling – utilizes the service provider's NFV API for auto-scaling based on business needs and retains effort in invested integration.
Business customers will also benefit from already available business templates, unified settings per business and big data of the entire user base.
ROI is Less than a Year
Let's look at the numbers –
NFV devices are located in targeted business areas. Let's assume 25 percent of the devices provide these new value-added cloud-based services.
If each business customer pays $X for internet connectivity, the service provider then can charge business customers for these new services an additional half of $X.
This means providers earn an extra $0.125X or 12.5% more per customer.
This is only in the first year! In the second year, 35% of customers would likely want IT as a service and more services will be available, doubling the average sales price of a customer.
About Gal Ofel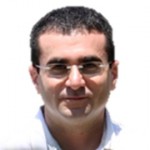 Gal Ofel is the Head of Software Solution Product Line Management at Telco Systems. Gal is responsible for the software products and the related ecosystem, including the OME, Open Metro Edge solution for SDN and Distributed NFV for service providers. Gal has over 15 years' experience in the high-tech industry, mainly in senior product management and pre-sales positions, including Perfecto-Mobile, Comverse, Shunra and Demantra-Oracle and Zoostr.
Previously, Gal was the founder of Zoostr and was responsible for visioning and launching the company's SaaS product. Before founding Zoostr, Gal worked at Perfecto Mobile as VP Product and was responsible for the cloud based test and measurement products for mobile operators. Gal has extensive technical expertise in mobile apps, cellular platforms, cloud technology and enterprise applications.
If you haven't already, please take our Reader Survey! Just 3 questions to help us better understand who is reading Telecom Ramblings so we can serve you better!
Categories:
Industry Viewpoint
·
SDN
·
Telecom Equipment