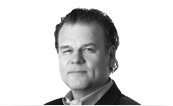 In July, Hibernia Networks breathed new life into its plans for a new transatlantic cable, dubbed 'Hibernia Express'.  I'd heard that the project was back on track, but the company had kept quiet after it had to suspend work with Huawei a year and a half ago.  With us today to further break that silence is Hibernia Network's longtime CEO, Bjarni Thorvardarson.
TR: What is the current status of the Hibernia Express cable project?  What's going on now and what's next?
BT: We started surveying in mid-June and will finish all the surveys this year.  We didn't want to lose the summer period and be forced to survey the ocean floor in September, October, and November.  You don't want to be doing that in the Atlantic.  Tyco started procuring the equipment and preparing to do the manufacturing during the same period.  Now they are running the factory full force, creating the physical fiber – 4,600 kilometers of it.  That's actually an 8-9 month project.
TR: Has the project changed significantly from the initial design?  How much of the work you did with Huawei still applies?
BT: The route design is exactly the same, therefore, we are still using the desktop studies and the surveys. Working with TE Subcom has enabled us to pick up virtually where we left off from the original effort.
TR: Optimizing latency has always been an important factor for this project; what will it be for the new incarnation of this project?
BT: Yes, it is still sub-60 ms from New York to London.  We are using amplifiers and fiber whose dynamics and statistics are quite well known, so they can calculate what the exact latency will be (with a margin for minor deviations as expected).  The only uncertainty is whether we will come across an uncharted shipwreck or something on the ocean bed that will make us decide to deviate slightly.
TR: How likely are significant changes in the route at this point?
BT: Nowadays the Atlantic Ocean is pretty well known, and obstacles have been accounted for already in the desktop studies.  In the physical survey, we are just looking for surprises.
TR: Four years ago, the interest in ultra low latency from the financial community was quite a bit less restrained than it is today.  How important is that aspect to making Hibernia Express happen today relative to the original plans?
BT: It's much less actually. Lower latency is obviously still important and valuable, but it's much less important than when we kicked off the cable.  We have secured a number of customer contracts, and a healthy majority of those are not latency sensitive.  It's more about the capacity now – we have a lot of experience with 100G subsea services on our existing systems and we like the advantages of having both the existing system in place, as well as Express because it enables a number of very unique high capacity solutions for our customers.
TR: How does capacity look on your existing cables?
BT: It is above one third and probably approaching 40% utilized, which compares to about 5% or so ten years ago.  We would have been full a long time ago if it hadn't been for technical improvements going from 10G to 40G to 100G.  And we will be able to go to 200G or 400G in a few years so there will still be capacity creep on the supply side.  But the demand is increasingly so rapidly, the existing solutions in the Atlantic will be challenged to keep pace.
TR: A few other new projects have been talked about in the Atlantic, including some from new entrants; do you think the sector has demand for something like that?
BT:  I think we are only beginning to see what the future holds for capacity both in terms of how capacity is utilized by customers and by how the industry rises to meet these engineering challenges.  We feel fortunate to have had the right combination of strong customer relationships, low latency, capacity, and geographic coverage to make this project a reality – I know it will not be any easier for the next cable. 
TR: When do you expect the cable to be ready for service, and what might affect that date?
BT: We'll be laying the cable itself in Spring 2015, which will make it ready for service in the summertime of 2015.  We are targeting July, but when it comes to exact dates, it's up to weather.  Can we start in late April or will we have to wait until May?  That will be the determining factor.
TR: What's next for Hibernia Networks after Hibernia Express comes online? Is there another cable on the drawing board yet?
BT: Knowing our Hibernia team, we will never rest on our laurels for too long, and we are already saying 'what next?' internally.  But for now, we are focused on the execution.  It took us four years to fund this cable, and the next step will be to turn it into a profitable enterprise.  Once we have locked in sufficient revenues, we will certainly be looking for the next project.
TR: Thank you for talking with Telecom Ramblings!
If you haven't already, please take our Reader Survey! Just 3 questions to help us better understand who is reading Telecom Ramblings so we can serve you better!
Categories:
Industry Spotlight
·
Undersea cables