According to Capacity, a consortium of six companies has launched an effort to build a new transpacific cable system, called FASTER (as if anyone would call a cable 'SLOWER'? haha). The cable will cost some $300M, and will put six fiber pairs capable of 60Tbps between the US west coast and Japan.
The composition of the consortium tells interesting stories. From the US we have Google, which seems to care more about such infrastructure now than any of the actual network operators. From Japan we have KDDI, whose involvement will give them another leg up in their competition with NTT. From China we have both China Mobile and China Telecom, each of whom has long had ambitions for more global influence in a region (and world) suspicious of Chinese influence. From the unavoidable data nexus of Singapore we have SingTel, who likes to have a finger in every consortium that touches its region. And last we have Malaysian-based Global Transit, which is looking to supplement its capacity on Unity and keep an eye on SingTel too.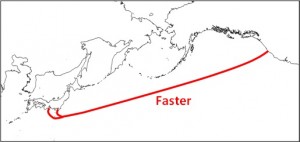 Not on the list is any operator from India or Australia, or any of the major telecoms in the western world. Global Cloud Xchange has its own plans in the works for such a system of course.  Telstra, AT&T, Verizon, Vodafone (i.e. Cable & Wireless), Sprint, and the rest are working on other things.
The target date is apparently sometime in 2016. Of course, launching a consortium doesn't mean the cable will actually get built, and we've seen more than a few such proposals vanish without a trace. Yet these six probably wouldn't have gotten this far together if they weren't serious about funding it, so perhaps the next transpacific wave is finally here.
Here is the original PR from NEC, which has been tapped to do the heavy lifting.
If you haven't already, please take our Reader Survey! Just 3 questions to help us better understand who is reading Telecom Ramblings so we can serve you better!
Categories:
ILECs, PTTs
·
Undersea cables