Yesterday the judicial hammer finally came down on network neutrality. A federal appeals court has sided with Verizon and rejected the rules put in place by the FCC in 2010 to prevent carriers from discriminating for or against various types of internet traffic. But while plenty will be outraged by the decision, I doubt very much that there are many that are the least bit surprised by the outcome.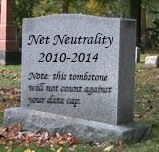 The court said that the FCC simply doesn't have the power to impose such rules on ISPs as currently implemented. They did leave in place the requirement that carriers must notify subscribers about its traffic management policies. But barring a successful appeal, the Open Internet rules have been essentially thrown out.
Everyone knew they were on flimsy legal ground and that this day was surely coming.  My own belief was that the FCC and its former chairman Julius Genachowski knew it as well, but faced an insoluble problem they had promised to do something about and thus did it anyway in hopes of gaining time for things to work out.  I suppose now we get to see how fruitful the last four years have been in that regard.
So what now? Well, I doubt anything instant will happen when it comes to last mile providers monkeying with traffic. The FCC hasn't been the primary force keeping obvious abuses of the last mile in check, that has been and will continue to be the public's job. The competition in the wireless space has made carriers increasingly sensitive to customer perceptions, and they know that to start slowing or blocking anything deliberately would be a good way to snatch defeat from the jaws of victory.
However, we saw AT&T unveil its plans for sponsored data the other day, and I suspect Verizon and others will float their own versions of the concept and everyone's will be extended to the wired world as well as wireless. In order to take advantage of yesterday's court decision, telecoms need some sort of economic infrastructure in place to allow the money to flow the way they want it to, and right now it just doesn't exist.  They will therefore attempt to create it and try to convince content providers to sign on rather than risk open traffic warfare later.
The big content providers, on the other hand, will be faced with some choices. You see, there could be benefits to the telco's approach for those that are already big. While they might pay more for access to their audience than they do now, it could also be said that their smaller upstart competition are likely to be less able to scale the new walls necessary to compete for eyeballs. A preferential traffic position could insulate large content providers from what is ever the industry's greatest fear: the next big thing being hatched in some garage somewhere that they're not a part of and don't understand.
And that's the big fear of the public interest groups here: that without network neutrality the corporate interests at the top of the pyramid on both sides will find a way to structure things in a way that protects themselves but stifles innovation from the base. Unless the FCC finds a way back in the game, avoiding such an outcome depends on the altruistic side of the corporate world. Don't be evil, but defend those revenues.
Of course, the ideal way out here is for Congress, in a burst of bipartisanship led by resurgent moderates, to pass a law revamping telecommunications and internet regulation for the modern era in a sensible way that everyone can live with, that promotes both investment and innovation, and which can evolve with technology.  I rather doubt it.
If you haven't already, please take our Reader Survey! Just 3 questions to help us better understand who is reading Telecom Ramblings so we can serve you better!
Categories:
Government Regulations
·
Internet Traffic