Late last week, the Northeastern and MidAtlantic-focused CLEC Broadview Networks (news) announced that it has reached a long term agreement to restructure its balance sheet. Something had to give this summer, as the company's $300M or so in debt was coming due in September. In short, they'll be converting that debt into a combination of new notes and lots of equity, smoothed by a quick, prepackaged trip through BK court.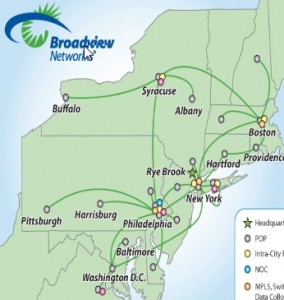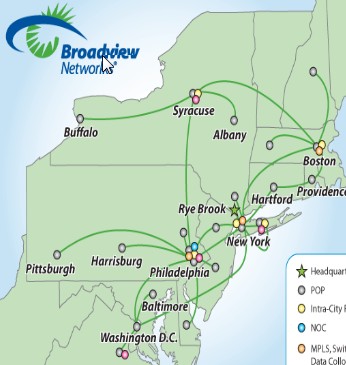 As one of the last remaining independent mid-sized CLECs, Broadview has been looking for a home for a while now but without success. They have been fighting a rear guard revenue holding action, as rising data revenues are still more than offset by the effects of general landline woes and the increasing presence of cable MSOs in the SMB market. Revenues for Q1 were $88.5M, with Adjusted EBITDA of $14.7M.
I actually thought they would surely wind up in Earthlink's hands, and I suppose they still might. They have about 3,000 route miles of metro and intercity fiber, with 260 colocations and 420 lit buildings. This restructuring gives the business some more running room to find a way to make those assets count.
Like many other CLECs, they have been working on a transition to cloud-based services in order to improve margins and add stickiness to their revenues. They have a cloud communications solution already in place, and other services at different levels of development, and in a recent presentation claimed 14% of revenues from cloud services. A better balance sheet will give them more resources to power that transformation.
The good news is that this is mostly a balance sheet event, and probably won't have a huge effect on operations or headcount. The company has been managing expenses to match revenue declines for years, and will probably remain on that trajectory for now.
Broadview expects to complete the restructuring process in Q4, backed by support from 2/3 of note holders and the main equity owners. Of course, there's no guarantee that another outcome won't emerge along the way. I still think the endgame will see them sold to another operator, if not Earthlink then perhaps Windstream?
If you haven't already, please take our Reader Survey! Just 3 questions to help us better understand who is reading Telecom Ramblings so we can serve you better!
Categories:
CLEC
·
Financials