A few quick-takes on news from overseas in the past day or two from Hibernia Atlantic, LION2, Pacnet, and Oi: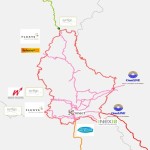 Hibernia Networks (news) has expanded its network reach into Luxembourg via a partnership with LuxConnect, which happens to be owned by the government of Luxembourg.  Amongst the benefits of going through Luxembourg for Hibernia is a new Frankfurt-Paris route, which they peg as the lowest latency available today. I hadn't run into LuxConnect before, and I have now added it to my European networks maps page.
Ciena (NASDAQ:CIEN, news, filings) said yesterday that it's intelligent mesh technology is powering the LION2 system. LION2 is the second phase of the Lower Indian Ocean Network, a submarine cable project connecting Madagascar and the nearby islands of Reunion, Mauritius, and Mayotte to Mombasa over in Kenya. From there, all that East African bandwidth that came online over the last couple years (SEACOM, TEAMS, EASSy) can give the region's traffic a lift to and from the rest of the world. LION2 just went live in April.
Further to the east, while most seem to be worrying more about the major hubs in Hong Kong and Singapore, Pacnet (news) has expanded its cloud computing solution over into Thailand. Thai customers can now deploy virtual private servers via Pacnet's IAAS services, which are hosted in Bankok. Pacnet recently canned its longtime CEO, Bill Barney, and is said to be in M&A discussions with PT Telkom.
And in Brazil, Oi says it is rolling out fiber into the state of Amapa, which borders on the Atlantic in the northeast corner of the country just to the north of the mouth of the Amazon and currently depends mostly on satellite for its connectivity.  The buildout includes 600km of fiber to be constructed by the state-owned pairing of the telco Telebras and electric utility Eletronorte, plus 230km of fiber to cross the border from Calcoene and Oiapoque all the way to Cayenne in French Guiana, where it will then hook up back down the coast via submarine cable to Fortaleza.
If you haven't already, please take our Reader Survey! Just 3 questions to help us better understand who is reading Telecom Ramblings so we can serve you better!
Categories:
Cloud Computing
·
Low Latency
·
Undersea cables