Zayo Group (news, filings) said today that it is expanding its northeastern fiber network to include a focus on high capacity intercity Ethernet and wavelength transport. What that means is 800Gbps of new total network capacity being targeted at one of the most competitive intercity markets in the world, i.e. within the Chicago/NYC/WashingtonDC triangle with access points in key facilities in Chicago, Ashburn, Manhattan, Philadelphia, and Cleveland.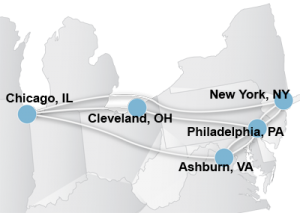 Zayo has long had the intercity assets to do this, but with the exception of a foray into the low latency NY/Chicago market the company has spent most of its effort on leveraging its metro fiber rather than delve into wholesale transport.  However, what has changed is that with the purchase of 360networks last year they now have a substantial intercity Ethernet and transport business to the west of the Mississippi.  Quite simply, they are now putting together a complementary product to the east as well.
So while the focus today is on the buildout in the eastern region, the real news is that Zayo's newfound transcontinental potential is swiftly becoming reality.  The metro business will remain their main one, of course, but the scale of their assets is making additional products attractive.
All they need now, as I've been saying, is to acquire a southeastern regional fiber network to bring all that Atlanta metro fiber into the fold and hook up to the landing stations in Miami. Then they will have rolled their way up to a full national presence, both metro and longhaul.   But there is no perfect asset out there that I can think of that would do that, although I suppose XO would fit the bill.
If you haven't already, please take our Reader Survey! Just 3 questions to help us better understand who is reading Telecom Ramblings so we can serve you better!
Categories:
Internet Backbones
·
Metro fiber